Everybody deserves a little break every now and then. It doesn't matter if you're looking to take a break from work, enjoy a babymoon, or simply experience somewhere new, we have the perfect wellness retreat for you. Head to Asheville for a little R&R and you'll be feeling great in no time.
Get Outdoors
Sometimes the simple act of getting out of the city and surrounding yourself with nature is all you need to clear your mind. You can go from the center of Asheville to the rustic countryside in a matter of minutes. Head out for a scenic hike to massive waterfalls, mountain tops, and wildflower meadows right outside of town. Find some of our favorite hikes with our Ultimate Guide to Hiking in Asheville, NC. You can also rent a bike either to take to the trails or peddle around the river. If the water intrigues you, then rent a SUP, kayak, or canoe and cool off.
Walk Through Historic Neighborhoods
Some of the most relaxing parts of Asheville are just outside of downtown. Take an evening stroll through some of the historic neighborhoods in the heart of town. The Montford Historic District is filled with stunning Queen Anne and Colonial Revival homes tucked away on shaded streets. You'll find a flower-filled amphitheater and a historic cemetery that serves as the resting place for several prominent authors, senators, legislators, and governors.
Additionally, the Kenilworth Neighborhood is worth a stroll. An eclectic mix of architecture, gardens, trees, wildlife, and hidden walking trails await you. In just 15 minutes, you can see the historic Chiles House, a Spanish Colonial Revival-style villa, and the Kenilworth Inn, a Tudor Revival building that has been a resort, a military hospital and now unique apartments. You can even amble along the almost hidden and picturesque Seven Springs Trail. You might pass a gorgeous Colonial Revival home, a quaint bungalow or Craftsman, or even a tiny log cabin overrun by wildflowers. Whatever direction, birdsong fills the air and glimpses of wild turkeys, groundhogs, woodpeckers, and maybe even a meandering black bear would not be uncommon. Slightly farther afield, the views of the sunset from Beaucatcher Mountain are gorgeous.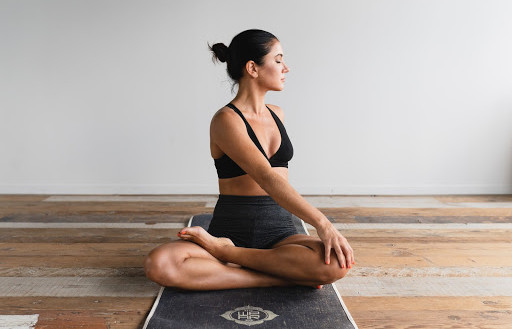 Get Your Vinyasa On
Practice your flow with a great view. Head to one of the grassy waterfront parks along the French Broad River, lay your mat out in the gardens of your B&B, or sign up for a yoga hike with Namaste in Nature. Hike one of Asheville's iconic trails and warm up your muscles before your yoga session on top of a mountain. Your tour includes transportation and a complimentary yoga mat. Most of our local yoga studios are offering online classes but will open up as state mandates allow.
If a relaxing vacation is what you desire then look no further than Cumberland Falls Bed & Breakfast. Tucked away in the Historic Montford District, this romantic Victorian house is the perfect accommodation to help you unwind. Enjoy your morning tea or coffee next to the calming Koi ponds, take a dip in your private whirlpool tub, or treat yourself with a spa day at Spa Under the Falls located on the first level of the inn. Choose from a wide variety of massages, facials, and footbaths to rejuvenate yourself.
How do you unwind? Cooking classes, yoga, or massage? Does a little of everything sound absolutely idyllic? Enjoy a sampling of relaxing tours that last between 2-4 hours so you can try as many as you want during your trip. Grab a group of girlfriends and go wine tasting. Sign you and your partner up for a romantic cooking class and learn how to create your new favorite meal. Embark on the Urban Wellness Tour and visit all of Asheville's wellness stores including a tea house, herbalist, and local honey sampler while learning all about the town's history.
Spend your getaway hiking, meditating, and treating yourself to the wellness that you deserve. A trip like this to Asheville will leave you feeling relaxed and rejuvenated. Stay at any one of the Asheville Bed & Breakfast Association B&B, inn, or hotel during your trip to Asheville.