On a sunny summer's day, you'll find that every body of water around Asheville is covered in color. Neon kayaks, artsy paddleboards, and classic canoes come out of storage and allow everyone to make the most of our landscape. It doesn't matter if you have your own or want to borrow one for the day, you can have a wonderful time enjoying the waters all over town.

Rent Your Gear & Take A Tour
Wai Mauna Asheville SUP Tours is the go-to place for your river adventures. They do it all, from guided tours to rentals to beginner lessons, so you can get out on the water with no hassle. Float by the Biltmore Mansion, through downtown, or take off on an all-day 11-mile excursion down the French Broad. Your tour comes with a kayak, life vest, and a shuttle service. You can also get a paddleboard delivered to your bed & breakfast so it is ready for you as soon as you arrive.
Don't want to stand up? Try Bellyak, the only kayak designed specifically for paddling prone. Instead of sitting upright in the kayak, you lay on your belly and paddle with special gloves on your hands. It is an entirely new way to enjoy the water. On a hot day, it is even more enjoyable because you can roll off and on with ease whenever you need a good dunk in the water to cool off. Fun fact: the Bellyak was invented in Asheville. You'll see people all around town using it. Rent one for a day or bring one home and be the first in your town to show off your cool new 'yak!
Take a guided kayak tour with Hike Bike Kayak Asheville. Enjoy a tour while learning about ecology of the river, history of the area, and cool birding finds. Every tour guide is a Certified Blue Ridge Naturalist and will make your experience that much better. Float the French Broad, or head out to one of the idyllic mountain lakes for an afternoon of relaxation.
Whether you embark on an easy 2-hour float or an 11-mile excursion, you'll be glad you booked a stay at the Beaufort House Inn. This Queen Anne Victorian Mansion in the Montford District is wonderful to come back to. Relax in your comfortable lodging or walk around the neighborhood for a perfectly peaceful evening.

Venture Out on Your Own
If you're bringing your own kayak, canoe, or paddleboard your options open tremendously. You can paddle around the town one day and venture far out of town the next.
French Broad
You don't have to travel far to cool off. The French Broad River is arguably the best spot for kayaking and paddleboarding. This easy-going river is almost an elongated lake in the heart of town, winding from farmland over and around the Biltmore Mansion, right by downtown, and through the mountains. The waters actually flow south to north in Ashville so make sure to drop-in north of town so you can paddle against the current for the first half of the trip and enjoy an easy float back down. For a flatwater float, hop in at French Broad River Park and paddle up towards Biltmore Estate, or if you are an experienced white water kayaker you can drop in below Craggy Dam for some technical paddling.
After a long trip around the Biltmore Estate, return to your luxurious accommodations at Cedar Crest Inn. If you get out of the water at Biltmore River Park, your cozy rooms are only a few miles away making it an easy retreat. Sit back with a glass of wine on the patio, you earned it.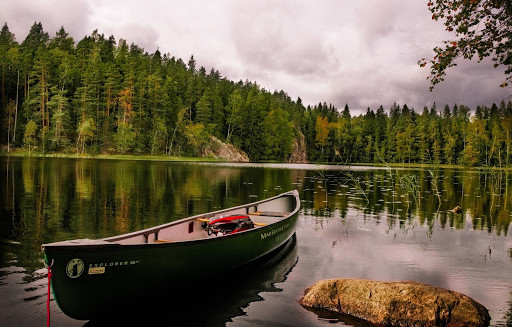 Lake Lure
One of the bigger lakes in the region, Lake Lure is often overlooked by kayakers and canoers because of the sheer size of the lake, but it shouldn't be. There are hundreds of little enclaves and unique shorelines to meander in and out of. Depart from Morse Park on the western edge of the lake and paddle around before docking at Lake Lure Beach to enjoy some ice cream from the downtown. You can also head up to the northern shore and depart from the beach up there to paddle around scenic shorelines and stunning waterfront homes.
Lake Junaluska
If you want to get out of town and paddle around in the Blue Ridge Mountains, head over to Lake Junaluska outside of Waynesville. This lake is a popular spot for joggers due to the shoreline trail that circles the lake, but the best part is getting in the water. Drop-in at the Lake Junaluska Boat Ramp and explore the lake before heading into Waynesville afterward for a well-earned lunch.
Lake Julian
Just south of town near Biltmore Park lies Lake Julian, a local spot for playing disc golf, enjoying picnics, and floating around. You can drop in at the Lake Julian Park and check out the shoreline and the unique Duke Energy Train Trestle that cuts through the center of the lake. If you visit early in the morning or in the evening you may see rowers from the Asheville Rowing Club training on the water.
Get out this summer and enjoy the water around Asheville. Whether you want to kayak, canoe, stand up paddle, or Bellyak, you can have a blast and soak up the sun. Let the Asheville Bed & Breakfast Association help you pick out the perfect B&B, inn, or hotel to stay at during your trip to Asheville.