Asheville is a city for lovers. With the stunning Blue Ridge Mountains to the west, marvelous parks scattered through the city, and a wide variety of dining options at your fingertips, a romantic getaway has never been more accessible. If you are looking to elevate your night and surprise your loved one with a date night for the books, head to one of these romantic spots around town.
For a truly unique date night experience, head to the Mediterranean restaurant Zambra and you'll feel like you were transported to Morocco. The amber-lit ceiling and stone floors give this contemporary eatery a funky feel unlike anywhere you've seen before. Still, the ambiance only comes second to their incredible farm-to-table tapas. Order a wide variety of small and inexpensive tapas for a grand meal bursting with different flavors and spices.

Storm Rhum Bar may just be the coziest restaurant in the state. This small intimate eatery is the perfect place for a quiet date night. On Monday nights, you can grab a $10 burger and a local brew for an inexpensive, yet unique experience. This restaurant is on the verge of blowing up so head over before the rest of the world finds out how great it is!

Unfortunately, this restaurant did not reopen after the coronavirus pandemic. The Golden Fleece is like a European fairytale. Dainty decorations and delicate flowers surround this rustic restaurant nestled deep into the forested Grovewood Village. Entrees feature local ingredients that have been slow-cooked to release their harmonic flavors. Cozy up in their warm and inviting restaurant or dine outside by the crackling fire. Innkeeper Tip: This eatery fills up fast on weekends, especially around sunset. Plan for a mid-week date and you'll be met with the same incredible dining and ambiance, plus a more intimate experience.
Turn any day into a date night at Double D's Coffee & Desserts. Trust us, you'll have no problem finding this snug little eatery inside a brilliantly red double-decker bus! Sit down and order a cup of decadent hot chocolate or one of their signature drinks like the Red Hot Chili Mocha or a Lavender Honey Latte and split a dessert. Choose from rich cheesecake, an ice cream sundae, or one of their fancy pastries.

In the heart of downtown lies a dessert restaurant with chocolates so smooth and velvety that chocoholics from all over the world come for a taste. Plan a late-night trip The Chocolate Lounge to dip into decadent chocolatey heaven with creme brulee, light and airy mousse, homemade ice cream, chocolate cookies and brownies, and the claim to fame: their Liquid Truffle sipping chocolate. All chocolate sold in the shop is made from the Chocolate Factory right here in Asheville. For a fun and unique date, plan a tour to the factory to see how they make these sweet slices of paradise. Innkeeper Tip: This establishment is very well known and can get pretty busy. Skip the line with a romance package that includes French Board truffles in your room upon arrival. Take these treats and enjoy them anywhere around the city.
You could easily get lost in the incredible selection of books at Battery Park Book Exchange, especially when it is encouraged to peruse with a glass of bubbly in hand. Pick out books for each other and sip some champagne or sit down and enjoy each other's company while you read on their cozy leather couches. They also create the most incredible charcuterie boards and the ambiance offers the perfect setting for an afternoon date.
EDISON is one of the more modern nightlife options in town. Nestled in the Omni Grove Park Inn, this contemporary eatery is known for its incredible cocktails, upscale bites, and views of the Blue Ridge Mountains. With stone pillars, rustic wood ceiling, fireplaces, and string lights, you'll feel like you're in a romantic mountain chalet. Innkeeper Tip: The Omni Grove Park Inn has a wide variety of restaurants and bars. Go bar-hopping without having to leave the resort!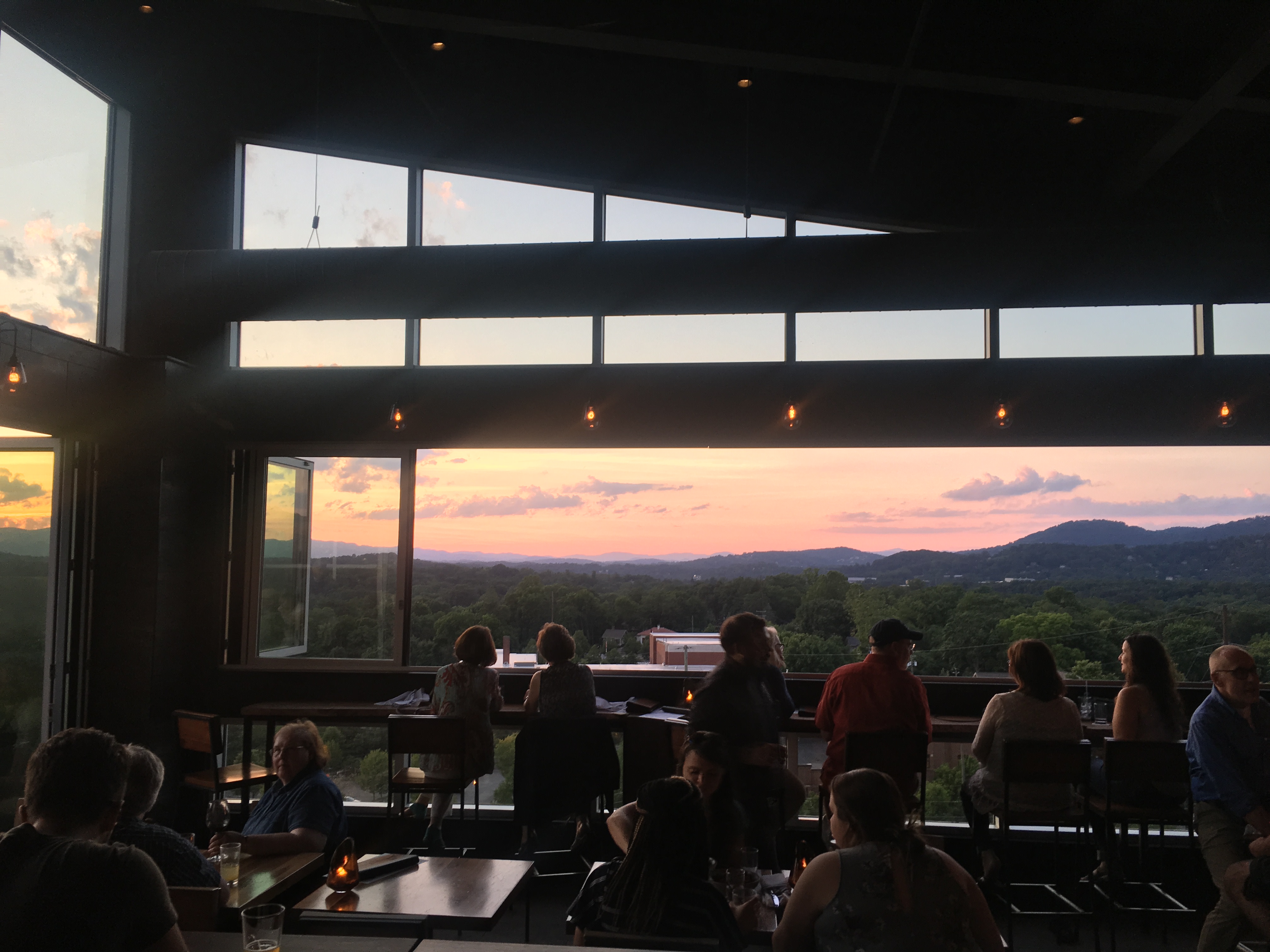 For the best sunset in town, head to The Montford about an hour before the sun dips down. Order a craft cocktail, some shared plates, and watch the sky light up with color. Long after the sun sets, you'll want to stay for the perfectly balanced cocktails and local beer selection. In the warmer summer months, you can relax on their outdoor rooftop bar deep into the night, but even on the colder winter nights, this eatery is still a favorite. Enjoy the same views with large glass doors and an intimate candlelit table. Innkeeper Tip: Don't worry about meter-parking your car. Bring it to the valet and show your receipt at the end of the night to get it validated.
Stay at a Romantic B&B
End your date night on a high note by staying at a romantic B&B right in the heart of Asheville! If you are a long-time local, take a staycation and reconnect with your loved one. If you can, escape for the whole weekend and treat yourself to pure luxury.
1889 White Gate Inn & Cottage not only allows you to walk to all the best museums, eateries, and attractions in Asheville but provides an intimate retreat just minutes from downtown. This AAA Four-Diamond property is the best of both worlds with gourmet breakfasts and intimate nature of a B&B mixed with the luxurious amenities of a boutique hotel. While every room at the inn is absolutely charming, The Cottage offers added privacy plus a gas fireplace and jacuzzi.
Plan your romantic date night and let the Asheville Bed & Breakfast Association help you pick out the perfect B&B, inn, or hotel for your getaway.