Nestled in Kenilworth's quiet tree-lined streets lies the Sweet Biscuit Inn, a stunning red-brick Colonial Revival bed & breakfast. Fully loaded with Asheville hospitality, charm, and history, this inn is the perfect home base for your trip to town.
History
Originally built in 1915 as a single-family home for local hardware merchant Ottis Green, this property has hosted more than 15 owners in its many reinventions, including an apartment building and Asheville's first rest home. It transitioned to a bed and breakfast in 1999, first opening as the Frisky Biscuit Inn—which led to some fun confusion about whether the inn hosted people or their four-legged friends. The owners quickly changed the name, and Sweet Biscuit Inn was established. In January of 2020, Susan Shah and John Meyer purchased the inn and have added their personal charm to the place.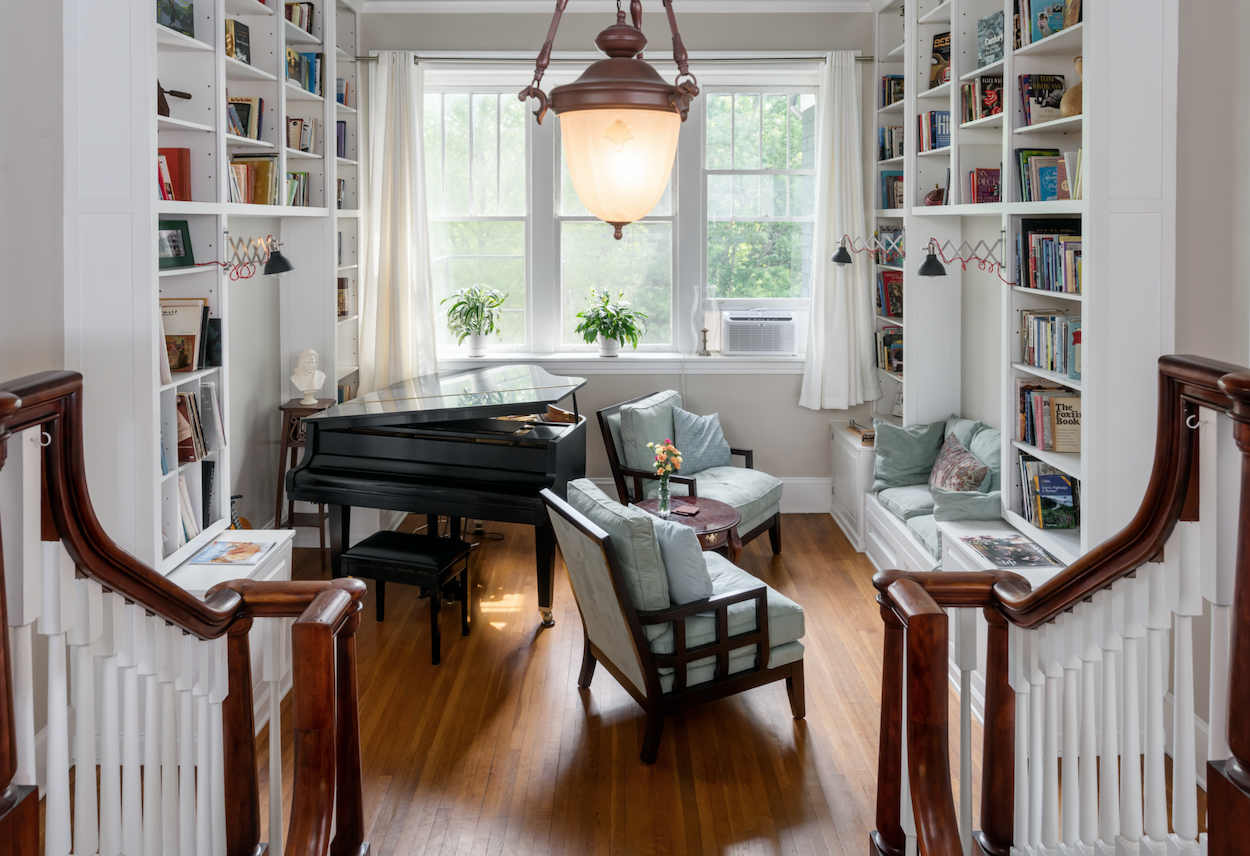 This grand home, built over a hundred years ago, continues to evolve in Kenilworth's unique neighborhood. The inn is tucked between downtown and historic Biltmore Village, making it steps away from the action while still being a peaceful retreat.
Staying at the Inn
This lovely bed & breakfast features colorful gardens and cozy nooks under old-growth shade trees. Fresh baked cookies and a welcome beverage greet you upon arrival, and it is hard to resist relaxing on the front porch or ambling along a garden path while Susan and John cater to your needs. In colder weather, curl up with a book in the library or gather around the warming fireplace in the dining room.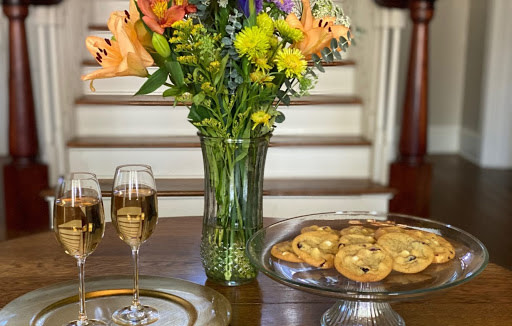 Choose from seven beautifully-decorated rooms or the pet-friendly carriage house. Each room features plush beds, luxurious amenities, high ceilings, and includes a gourmet 3-course breakfast. The carriage house is a 2-story brick and cedar shake cottage and features a full kitchen and private patio (breakfast is not included but may be added separately). The carriage house sleeps up to four adults and allows pets and children, making this a great getaway for groups.
During the day, walk downtown and visit the eclectic shops, cafes, and galleries Asheville is known for. In the evening, relax at the inn by one of the private in-room fireplaces–or settle in on the porch swing while you look for wildlife. Turkeys, songbirds, and even bears sometimes make an appearance (we hear they like John's cookies!).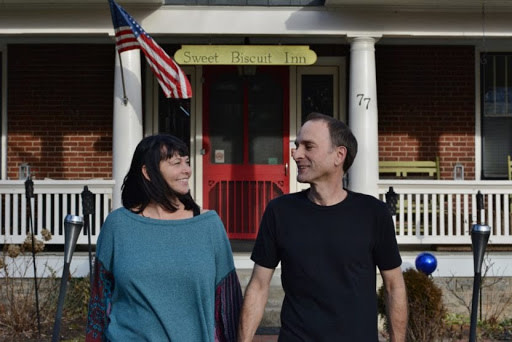 Get to Know Innkeepers Susan & John
Q: What made you want to be an innkeeper?
A: Considering our personalities (both together and separately), experiences, backgrounds and current position/time of life, becoming innkeepers checked a lot of boxes for both John and Susan. Susan grew up in Asheville and longed to return after more than 30 years away. Inevitably, John fell in love with Asheville during their many visits to the area. John loves to cook, garden and work on home projects. Susan is experienced in running a small business, and now at being a prep-cook. Together we are ready to combat anything.
Q: Would you consider yourself more of a sweet or savory person?
A: Susan leans savory & John is a little sweeter! If we're going to have a late-night snack, John will have candy, cookies or ice cream. Susan will have popcorn. Then we'll share them both.
Q: What is your favorite place in the world?
A: That's impossible to answer! Both avid travelers, we couldn't decide on just one place. When we bought the inn in early 2020, we decided to take a big trip knowing it might be a while before we could step away from the business. We chose Bali, Indonesia, and explored cultural centers, rice paddies, eco-resorts, remote islands, and party beaches. It was perfect!
Other go-to vacation spots closer to home include Puerto Rico and Ocracoke Island in the Outer Banks of NC.
Q: What is your favorite breakfast food?
A: Because of our split preferences for sweet and savory flavors, we choose one sweet (waffles or pancakes with fruit and whipped cream) and one savory egg dish (veggie quiche or omelet), and then share it all. On our 3-course breakfast menu, we always have something sweet and savory to mix it up and meet everyone's tastes.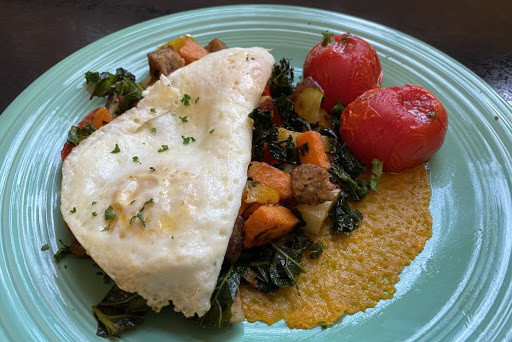 Q: What made you fall in love with Asheville?
A: Susan was born in Asheville and has always considered the town her home. John fell in love during one of their trips and loves the natural landscapes of the mountains and the open-minded people. Asheville really is infectious. The overall vibe is incredibly appealing. The natural scenery of the area is undeniably gorgeous. The elements that make up the downtown skyline are mesmerizing – that cluster of beautiful old buildings with the mountains as the backdrop. The vibrant and free-flowing scene downtown is fun and unique. The options for fun and funky entertainment, amazing food, art and culture, the landscape, history, nature, architecture – Asheville has all of it.
Q: If you could time travel where/when would you go?
A: Susan is happy right here right now. John would love to go back to when he first met Susan and introduce her to his father, who sadly passed away within weeks of their meeting.
Q: What travel tip do you have for guests visiting Asheville?
A: Do some of everything, or at least some of a few different things. Research a little to find what sounds appealing to you, because there is so much more than the obvious to do here.
Experience the views from a rooftop restaurant or bar or the Grove Park Inn. Go downtown to walk the Urban Trail, eat whatever you're in the mood for, listen to music, check out the architecture and art, shop, or just people-watch. Visit a brewery even if you don't love beer. Discover some of the quirky side of Asheville – join in the drum circle, take a ghost tour, check out the famous Riverside cemetery, step inside the pinball museum. Explore what some of the different neighborhoods have to offer for bars and dining. The list is endless – back to research or ask your local innkeeper/concierge!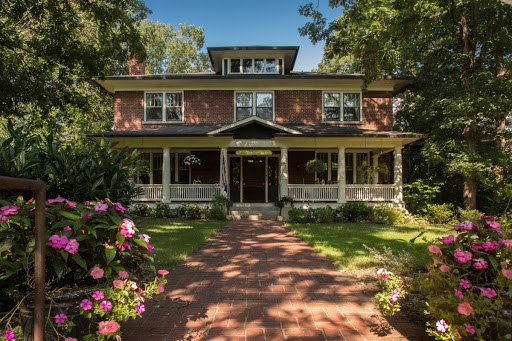 Book a stay at the Sweet Biscuit Inn during your next trip to Asheville. With its central location, plush bedrooms, delicious 3-course breakfast, and charming innkeepers, this spot will keep you returning year after year!