Cumberland House B&B Wins Virtual Gingerbread House Competition
The innkeepers of the Asheville Bed & Breakfast Association knew a stop at the Grove Park Inn was on the itinerary of many travelers. So their guests did not miss out, some of the innkeepers decided to make gingerbread houses for display at their B&Bs and hold a friendly competition to decide a winner.
All gingerbread creations were listed on Asheville Bed & Breakfast Association's Instagram (@avlbba) and Facebook (@AsheveilleBBA) and one lucky voter won a $100 gift card! Check out what some of our innkeepers had to say about the competition and the stunning creations they were able to make:
Cumberland Falls Bed & Breakfast
Innkeeper Angela: My inspiration was hanging out with my best friend in her kitchen doing something creative and fun. I think everyone liked my fruit striped gum shingles and that was her idea!! The holidays are about happiness and I think the gingerbread houses brought a little bit of light and happiness to a pretty tough year. I am glad we did it.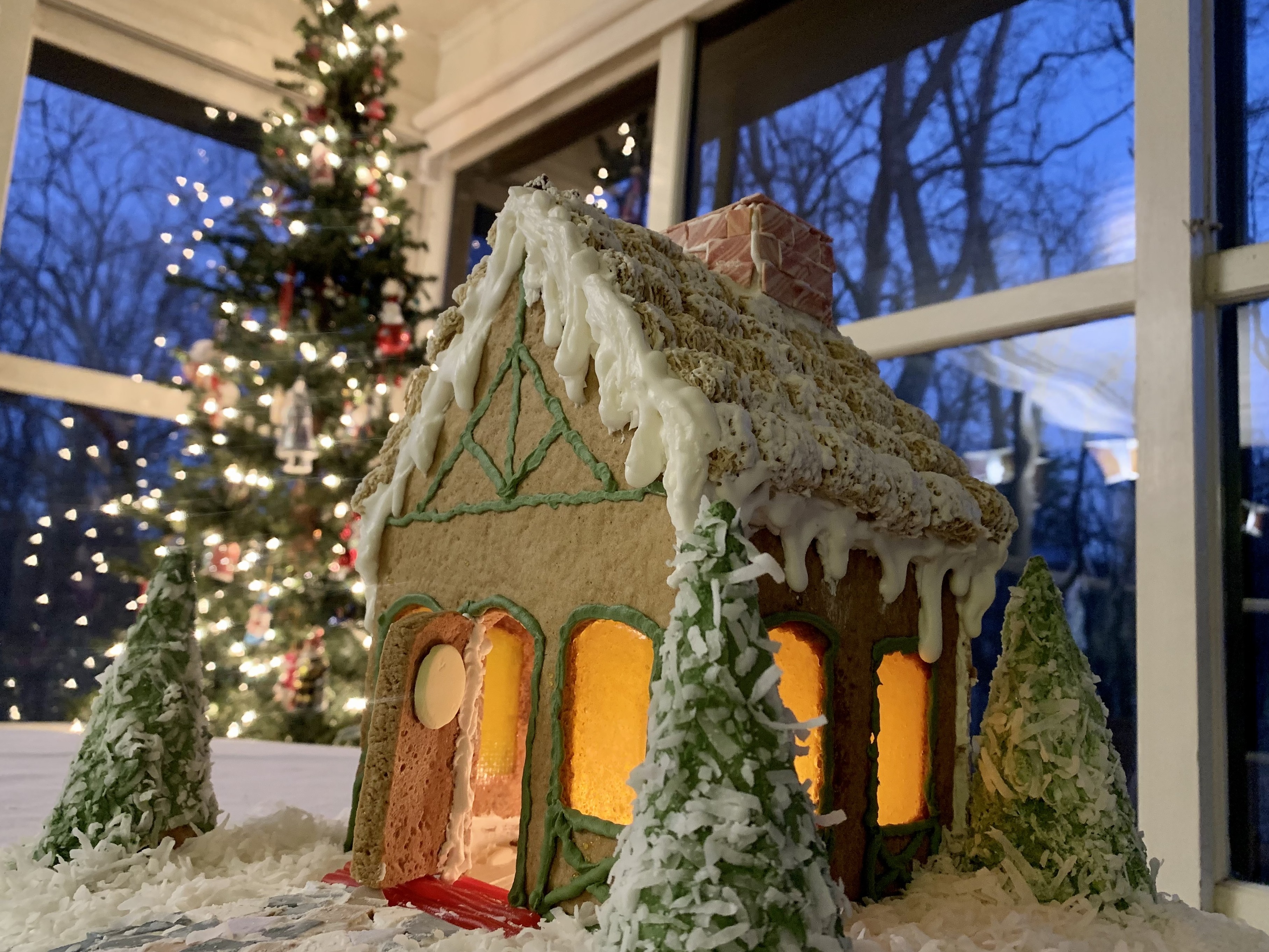 Pinecrest Bed & Breakfast
Innkeeper Diane: I was inspired by the Great British Baking Show and used Mary Barry's recipe and template. While decorating, I took a clue from the Tudor architecture and colors of the B&B. The windows were made from crushed butterscotch candies so I could put electric candles inside that glowed in the evenings on the sunporch. It was great fun to make it to the final round and watch the votes!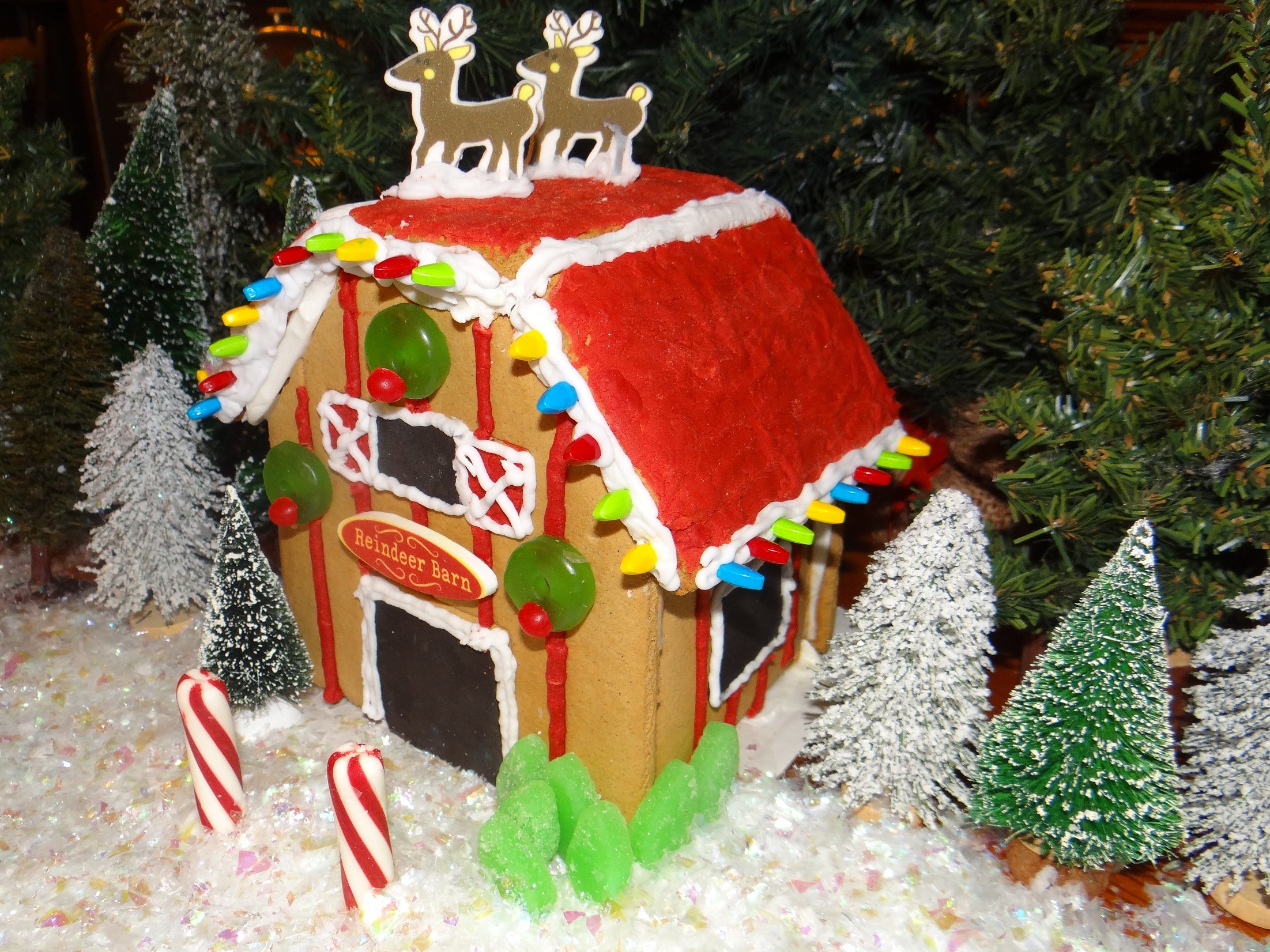 Engadine Inn & Cabins
Innkeeper Rick: Given that at Engadine we actually have a little red barn, we thought it might be fun to join the competition with a tribute to it! Since we aren't bakers, we ordered a kit online…a kit that said it would come "complete with everything we needed" to design and build our little architectural creation. However, not satisfied with the decorations that came included, Tom wiped out the candy section at Ingles so that we could go over the top with our design. All went well until, after putting it all together, the whole thing fell apart as we were finishing it up. Fortunately, we were able to get it all reassembled just in time and for long enough to take a few photos!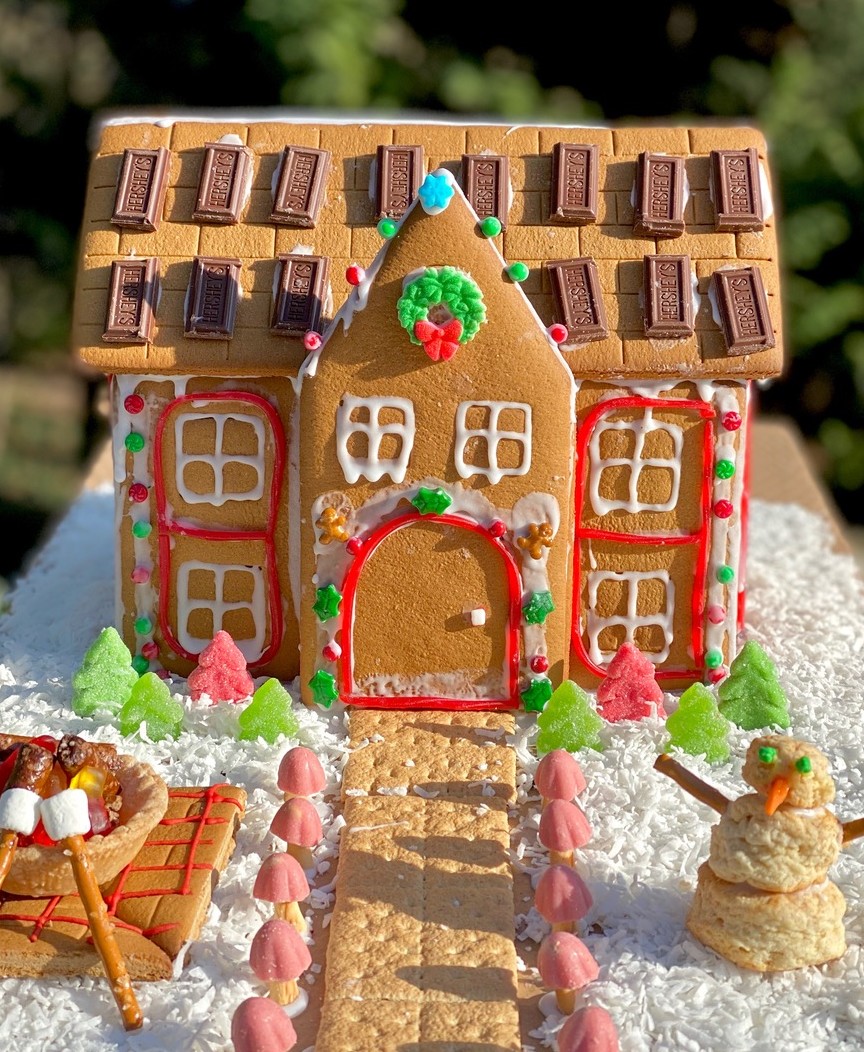 Sweet Biscuit Inn
Innkeeper Susan: In the spirit of the holidays, we agreed to participate in the virtual ABBA Gingerbread House Competition. We had tons of fun building our first ever gingerbread house. While it wasn't the most polished or structurally sound house, we thought it turned out pretty well. Our favorite parts were recreating our outdoor fire pit with pretzel logs and gummy worm flames and building Biscuits, the Snowman, made with love and biscuits, of course!
Stay Safe, Stay Safe, Stay Inn
In the face of a global pandemic, the inns of the Asheville Bed & Breakfast Association have adapted and modified their properties to still serve their guests with gracious hospitality. We hope by Christmas 2021 we can all gather again at the National Gingerbread House Competition. In the meantime, we are here for you.