Although a vacation might not be in the cards anytime soon, a romantic staycation may be just what you and your partner need. Asheville is an incredible place to live and visit, with ample hikes, gorgeous mountains, delicious restaurants and scrumptious food trucks. When you realize you and your significant other might be taking these benefits for granted, it's time for a refresh. Use this staycation to disconnect from the online world, reconnect with your partner in real life, dive into new experiences, and let yourselves truly relax.
Book Luxurious Experiences
Even though you already live in or around Asheville, you still need to book a room! This getaway should feel like an escape from your normal life, and that starts with accommodations. The key to a staycation in any season is to book an ultra-fancy suite. Many of our bed & breakfast association members boast lovely suites that envelop guests in luxury.
Another way to truly indulge during your stay is to schedule calming spa sessions. Take a full day off at Shoji Spa and Retreat. Their open-air saltwater hot tubs make soakers forget about the stresses of daily life. Moreover, several Asheville bed & breakfasts offer in-room massage and other spa services.
Cumberland Falls Bed & Breakfast Inn is a boutique inn and spa perfect for romance. The Natural Mystic room includes a dreamy two-person Jacuzzi and gas-burning fireplace. Book an indulgent massage or relaxing foot bath at the property's spa.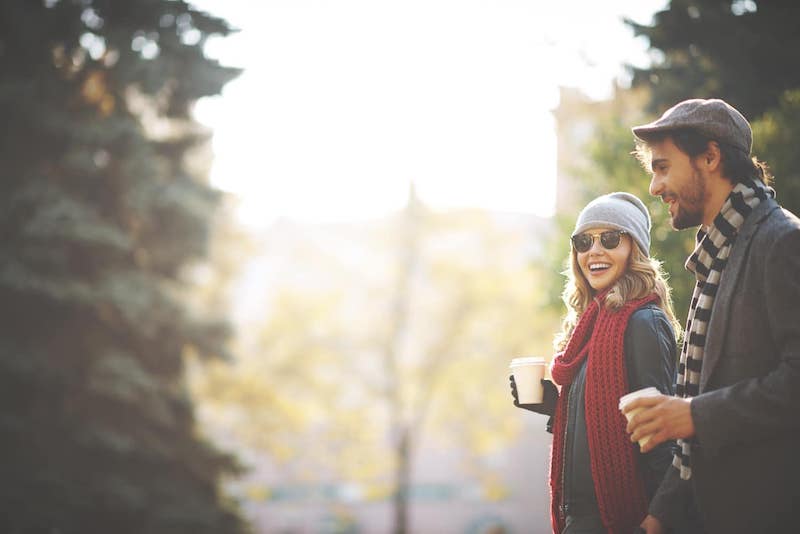 Please Your Palate
We can't talk about fall flavors without mentioning pumpkin spice lattes. Whether you're a fan of the sweet drink or not, it's always fun to take a mid-morning pit stop at one of Asheville's best coffeehouses. Don't forget to snag a few fall-themed pastries while you're at it! Vortex Doughnuts always serves fresh takes on tasty autumn flavors.
Moreover, surprise your partner with an intimate, upscale picnic during a scenic hike. Asheville's Picnic Pop-Up provides luxury outdoor dining experiences that your partner will love. If you don't want to make things too fancy, ask your innkeeper about adding on a picnic lunch!
In addition, a staycation is a great time to splurge on fancier dinners. Asheville has so many incredible restaurants, and many of them have farm-to-table, seasonal menus that celebrate the flavors of fall. Featured as one of America's Most Romantic Restaurants by Travel + Leisure magazine, Zambra is the place to go for your dressed-up staycation date night. This tapas and wine bar serves Spanish and Moorish-inspired small plates with delicious wine.
The Reynolds Mansion Bed & Breakfast Inn knows a thing or two about culinary delights. Wake up each morning to a three-course breakfast, and rest easy each night in your romantic Carriage House Suite.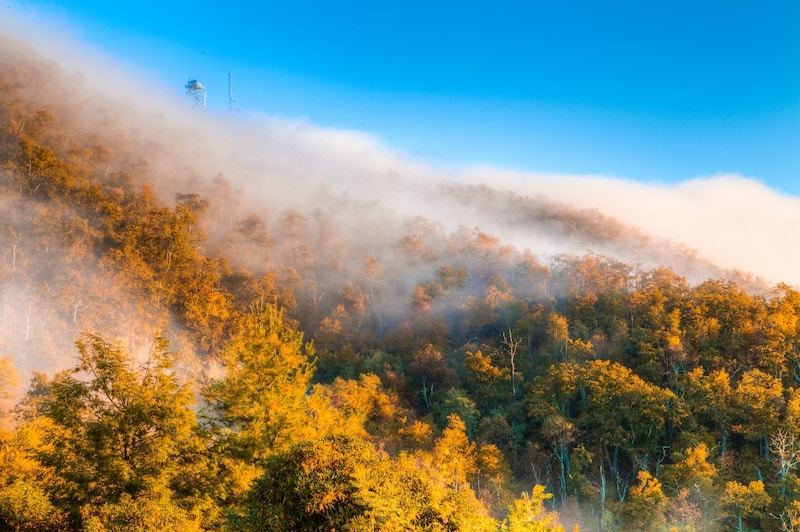 Tour the Town
It can be incredible fun to be a tourist in your own town, especially with your partner. Take a more formal tour with a local company, or simply let your feet guide you to your next destination. Hike Bike Kayak Asheville hosts Scenic Driving Tours of the Blue Ridge Mountains that will show you the most beautiful fall foliage in the area.
Another great way to tour Asheville is by bike! Rent electric bikes from The Flying Bike, and spend the day touring the River Arts District on the new greenway. Stop for coffee at Summit Coffee, devour lunch at 12 Bones Smokehouse, and finish off the tour with wine happy hour at Bottle Riot.
Forget about grocery shopping, cooking and dishes for a while! In addition to spacious rooms and beautiful decor, Sweet Biscuit Inn serves a delicious three-course breakfast each morning. Check out their romance package now!
Soak Up the Sunsets
Be intentional about spending quality time together. One great way to stay present is to watch the sunset as a couple each evening during this Asheville adventure. The sunsets in Asheville are particularly lovely, and we're willing to bet that you get too caught up in the day-to-day of normal life to stop and watch the sunset on normal days. If you two are game for leaving your comfortable suite, Lookout Mountain on the UNC Asheville campus offers expansive views of the Blue Ridge Mountains to the west. Another romantic idea is to make a reservation for sunset drinks at The Montford Rooftop Bar. Sip on tasty craft cocktails as the sun slips out of sight.
After watching the sunset from the Montford Rooftop, walk back to your inviting room at 1899 Wright Inn & Carriage House. This historic property is nestled into the Historic Montford District, just minutes from the lively fun of downtown. Book the Romance Package to surprise your partner with wine, chocolates, and flowers upon arrival!
If you participate in any of these fall festivities, tag us in your photo on Instagram! Want additional insider tips about your upcoming Asheville staycation? Learn more about what to do in Asheville by staying at an independent inn. Your innkeeper will gladly offer tips about the best cider breweries, unbeatable live music venues, spooky places to visit, and so much more. Let the Asheville Bed & Breakfast Association help you find the best inn, B&B, or boutique hotel for your next getaway.