The hottest days of summer are now behind us and you know what that means… autumn! There really isn't anything like Asheville in the fall. Every hillside, county park, and quaint neighborhood transitions to orange, yellow, and red colored paradise. While you could enjoy fall color from pretty much everywhere, here are some of the best spots to take in the views.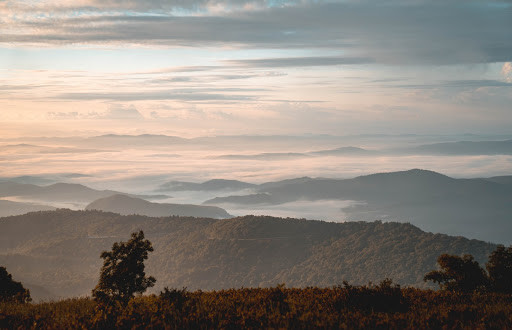 Hikes:
Follow the Blue Ridge Parkway south to reach one of the best fall hikes around. Graveyard Fields is a popular 3.5-mile loop that passes two stunning waterfalls and a picturesque meadow that turns a vibrant red during the fall. The valley used to be covered in huge trees that were knocked over by strong winds hundreds of years ago leaving stumps that resembled a graveyard. Today, this valley is forever changed and remains one of the most biodiverse sections of the Blue Ridge Mountains. Innkeeper Tip: head over to the Black Balsam Trail after for one of the most incredible sunsets around.
Next to Graveyard Fields, Fryingpan Mountain Tower is another popular autumn hike. A moderate 1.5-mile trail leads you up towards one of the taller peaks in the Blue Ridge Mountains. Atop Fryingpan Mountain lies an old lookout tower that offers unparalleled panoramic views. The hills are covered in orange and yellow trees for as far as the eye can see.
Before you take a hike or drive along the Blue Ridge Parkway, stop by the North CarolinaArboretum. With an extremely biodiverse collection of plants, you can learn about which leaves are native to the area and what to keep an eye out for. Afterward, walk the trails like a local and recognize all sorts of trees, bushes, and flowers.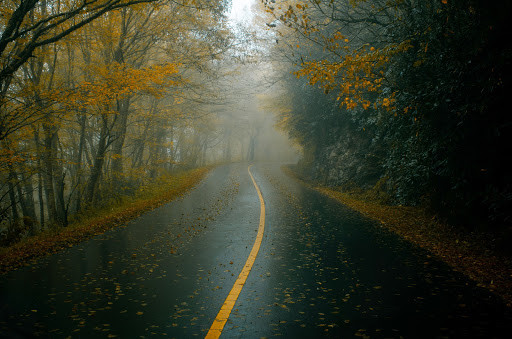 Drives:
Pisgah Highway NC 151
Grab a cup of coffee and hit the open road. This little loop is the perfect relaxing activity for a lazy afternoon or for an early riser looking to maximize the day. Follow the Blue Ridge Parkway south past the North Carolina Arboretum until you reach the NC 151 turnoff towards Candler. This curvy road is an absolute blast to drive and offers countless spots to stop and take in the views. Stop at Chestnut Cove Overlook, Mills River Valley Overlook, and Stony Fork Park to enjoy all the warm autumn colors.
US 276
This massive route stretches all the way from Waynesville, NC to Greenville, SC but you don't have to drive the entire road to enjoy its beauty. Travel down the Blue Ridge Parkway and you'll have two options for loops. The first is to drop south on US 276 which will bring you back to Hendersonville. If you choose this drive make sure to stop off for Looking Glass Falls, Moore Cove Falls, and The Cradle Of Forestry in America museum. The other route brings you north towards Waynesville and Lake Junaluska. You'll follow the Pigeon River through the valleys. Make sure to pull over often to enjoy the sheer beauty of this road.
Wake up and look outside your luxurious rooms at Engadine Inn and Cabins for a front-row seat to fall color. This historic inn is perfectly tucked away in the Blue Ridge Mountains and boasts a cozy autumn feel with fireplaces, private porches, and stunning views that will make you never want to leave.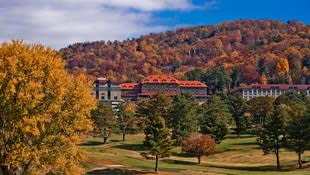 Few things are as tranquil and serene as an early morning round of golf at the Grove Park Inn during the fall. The award-winning golf course should be high on the list for any golfer but few know that the best time of year to play a round is during autumn. The course is filled with trees that transition into rich oranges and deep reds with views of the Blue Ridge Mountains throughout. Innkeeper Tip: The Asheville Bed & Breakfast Association has access to discounted rates on your round of golf at The Grove Park Inn when staying at any of our properties. Inquire with your innkeeper to make arrangements for this deal.
Urban Explorations
The best part of Asheville is that you don't have to travel out of town to enjoy the wonderful fall foliage. Each unique neighborhood brings out the colors of fall with large maple, sycamore, and oak trees. Take a walk around Grove Park, Kenilworth, or Montford neighborhoods, each adorned with beautiful architecture and crunchy leaves for the perfect fall feel. Several of our gorgeous bed and breakfasts boast their own unique collection of fall color. Take a look and find the perfect one for your cozy autumn getaway.
Spend your autumn hiking, driving, golfing, and treating yourself in Asheville. Stay at any one of the Asheville Bed & Breakfast Association B&B, inn, or hotel during your trip to Asheville.