Outdoor enthusiasts are drawn to Asheville for its natural beauty and endless spots to explore. However, in the summer, the combination of heat and humidity might make you think twice before heading outside. Luckily, Asheville and its neighboring forests have crisp, refreshing waterfalls to help you cool off on a hot day. Check out 10 of our favorite waterfall hikes that will make your trip to Asheville even better!
Lace up your sneakers for this 7.2-mile loop that brings you to not one, but two gorgeous waterfalls! The trailhead is located in Brevard, about 35 miles southwest of Asheville in Pisgah National Forest. This trail is also open for horseback riders and cyclists. Although some may be discouraged by the mixed usage, the hike is definitely worth it. You'll love walking through the forest, across multiple bridges, and past beautiful waterfalls.
Bridal Veil Falls is a 120-foot tall waterfall located in Dupont State Recreational Forest near Cedar Mountain. The hike to access the falls is a 4.6-mile loop that is rated easy for most people. Notably, the site of the falls was used in the blockbuster movie series The Hunger Games. Be careful if you frolic in the water at the foot of the falls, as the rocks can get quite slippery.
Carolina Bed & Breakfast in the Historic Montford District offers gorgeous grounds and cozy rooms. Add on their Picnic for Two package to enjoy a delicious gourmet lunch in front of one of these waterfalls!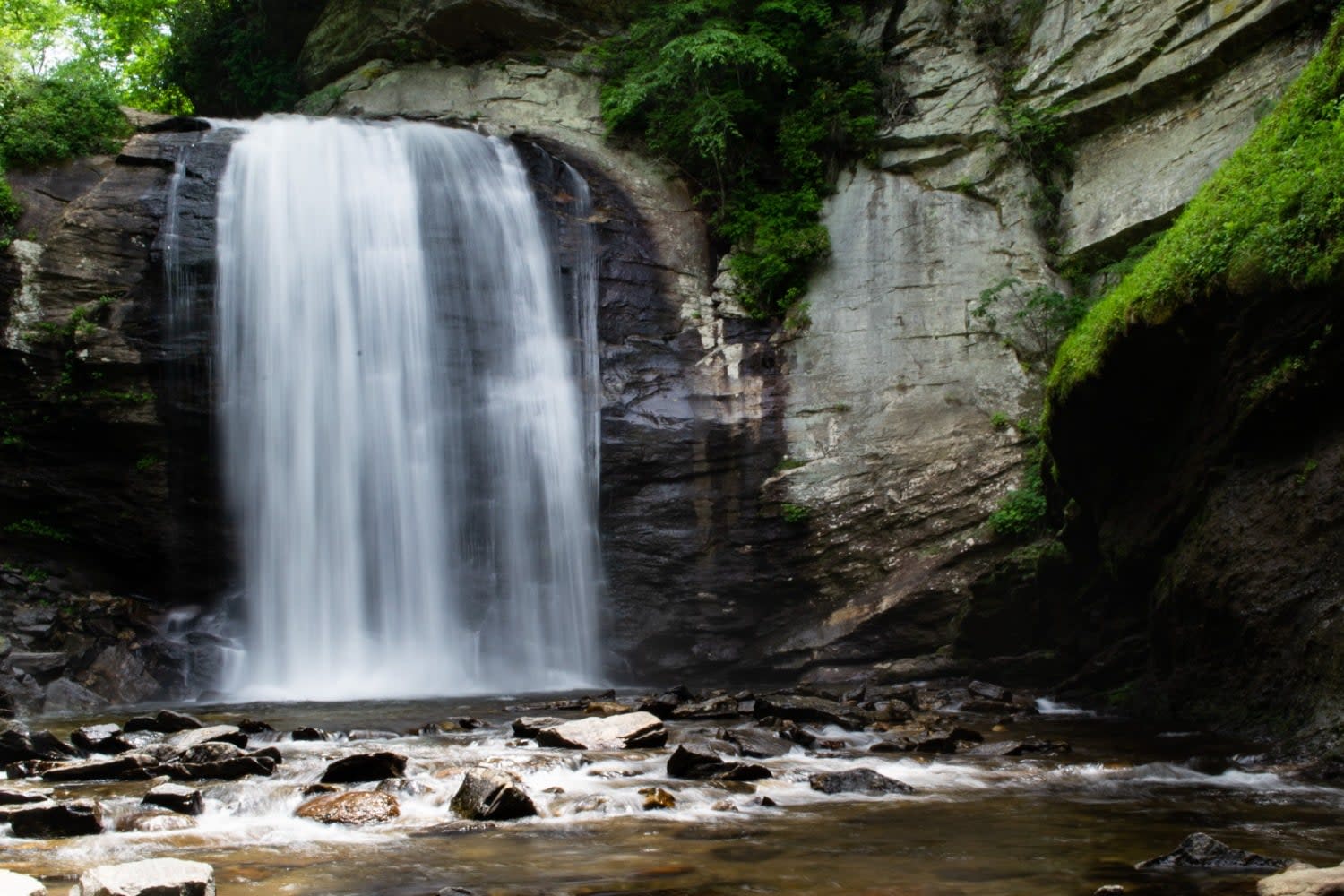 Looking Glass Falls is one of the most famous waterfalls in Asheville. Located in Pisgah National Forest, the gorgeous waterfall is a very short 0.3-mile walk from the parking lot. Many people love to swim and cool off in the pool below the falling water. This is a very popular attraction in the area, so get here early to beat the crowds!
Tucked inside Pisgah National Forest, Moore Cove Falls Trail is a 1.2-mile out-and-back route perfect for hikers of all ages. The waterfall is about 50 feet high and flows over a rocky overhang to create a stunning curtain of cascading water. Some parts of the trail get rather steep, so mind your footing during the hike.
The 1899 Wright Inn & Carriage House is a Queen Anne Victorian Mansion in the Historic Montford District. Experience the intersection of comfortable elegance and modern amenities in this beautifully decorated home. Check out their packages!
Hooker Falls Trail is a 0.9-mile out-and-back hike in DuPont State Recreational Forest near Hendersonville. The gravel trail provides an easy stroll from the parking lot, which makes it a popular destination for people of all ages. The stunning wide waterfall pours over rocks and pools into a lovely swimming hole. Head here on a weekday to skip the crowds and enjoy the water for yourself.
To hike Little Bradley Falls, drive about 40 miles southeast of Asheville to Green River Gameland. The trail is a moderately difficult 2.4-mile out-and-back hike under a canopy of lush, green trees. The path weaves through trees and past old ruins until you reach a beautiful 50-foot waterfall. Locals recommend bringing a pair of water shoes to cross the creek along the trail.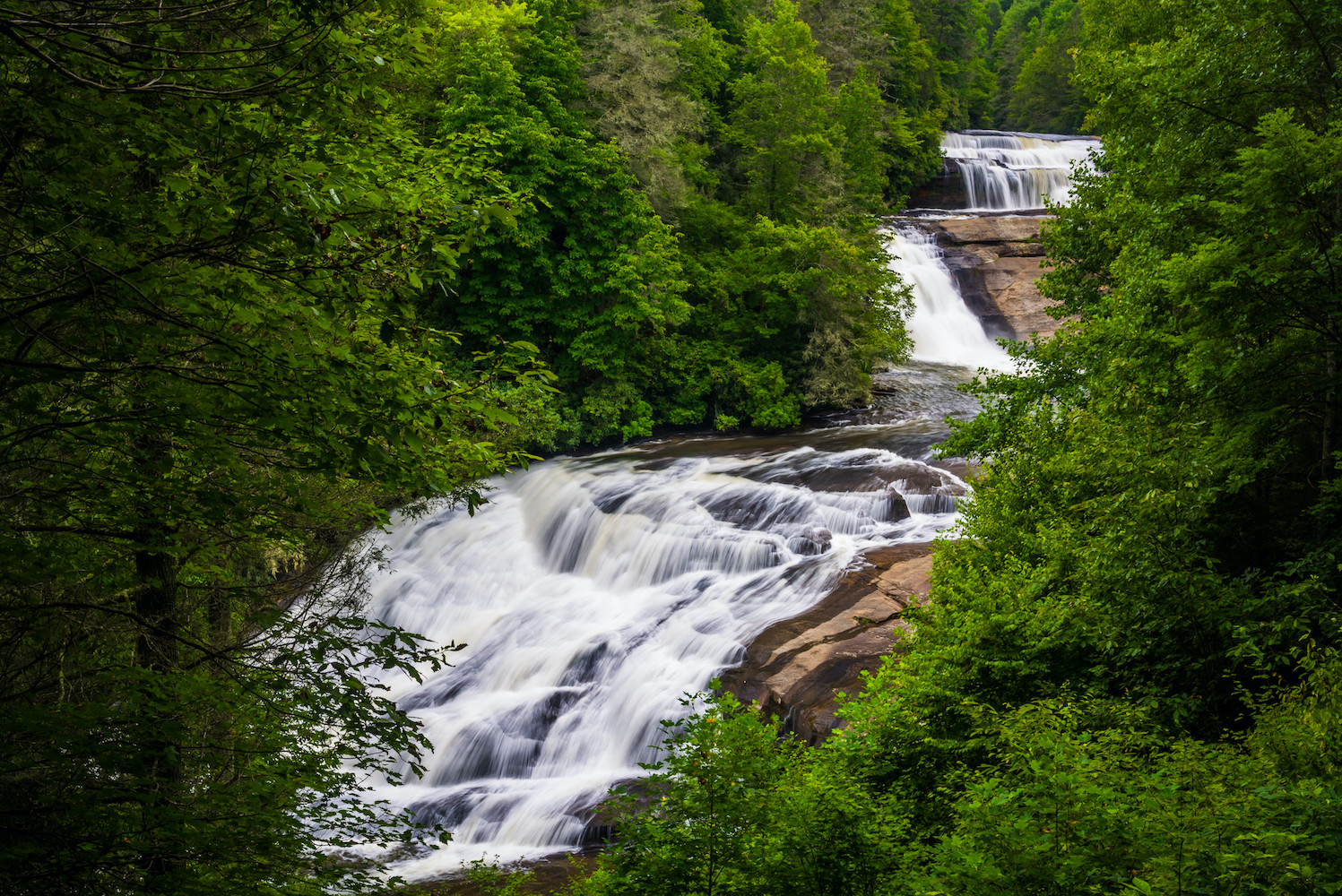 Make the trek to DuPont State Recreational Forest to access the 2.3-mile hike to both Triple Falls and High Falls. Wear appropriate hiking shoes as the trail is mostly gravel and has some steep inclines. The waterfalls are a tremendous reward after expelling effort in the uphill sections of the trail. The hike can get quite crowded on the weekends, so locals recommend carving out some time on a weekday or making the trek in the morning.
Bent Creek Lodge is a bed and breakfast nestled in the mountains near the Blue Ridge Parkway. Hikers love to stay at this conveniently located lodge with easy access to many incredible trails.
Travel about 50 miles southwest of Asheville to Pisgah National Forest to access Lower Falls via Graveyard Fields. The beautiful waterfall is located only 0.5 miles from the parking lot. This easy trail is partially paved and has some sections with stairs. The waterfall can be seen easily from the viewing area in the parking lot as well.
Hickory Nut Falls is a must-see 404-foot tall waterfall. You must purchase a ticket to Chimney Rock State Park to access the fairly easy 1.4-mile out-and-back trail. In fact, the waterfall is one of the tallest east of the Mississippi River. This iconic cascade was also featured in the film The Last of the Mohicans.
Pinecrest Bed & Breakfast is a luxurious bed and breakfast in Asheville. You'll delight in waking up to a gourmet breakfast each morning after a restful night's sleep. Check out their specials to make your stay even more unique.
Head east on the Blue Ridge Parkway for about 15 miles to Black Mountain, NC to tackle this 2.3-mile out-and-back trail. The hike to Catawba Falls is fairly easy for all abilities and leads you to a beautiful, rocky cascade. This low effort trail is pretty popular with hikers of all ages, so head out early to secure a spot on the rocks to relax and dip your toes in the crisp water.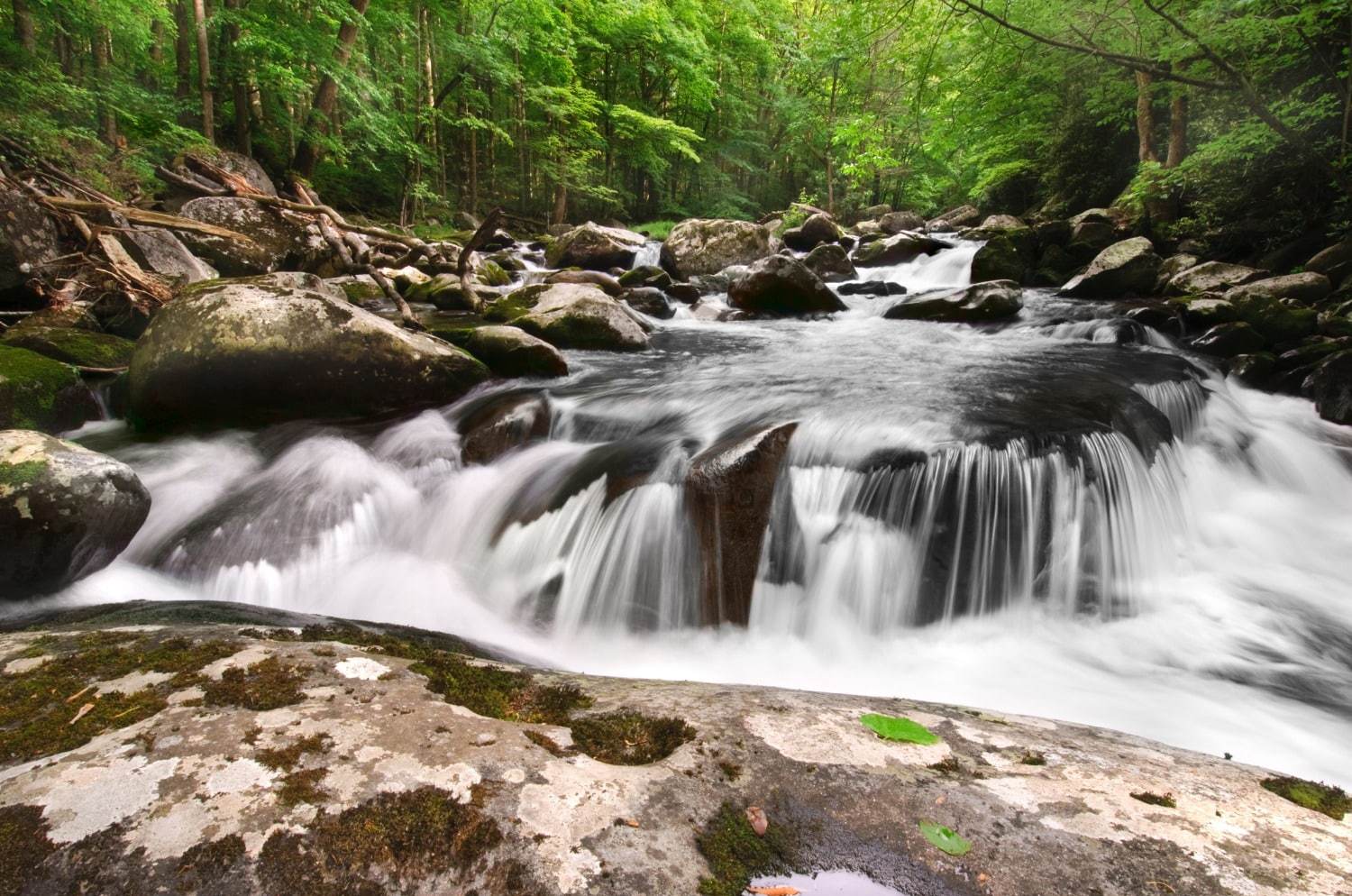 If you visit any of these waterfalls, tag us in your photo on Instagram! Want additional insider tips about your upcoming Asheville waterfall adventure? Learn more about what to do in Asheville by staying at an independent inn. Your innkeeper will gladly offer tips about day trips to the Great Smoky Mountains, the best outdoor dining options, and so much more. Let the Asheville Bed & Breakfast Association help you find the best inn, B&B, or boutique hotel for your next getaway.