It's no secret that summers in the South can be a little extreme. Here in Asheville, summer is all fun and games until 100% humidity enters the scene. While we do love our air conditioning, summer isn't meant to be spent indoors. Our local guides have compiled a list of their favorite ways to cool off on a hot Asheville day. This year, don't let the heat keep you inside, put on a tank top and let's get going!
Hit the Beach
One of the best places to go in the summer in Asheville is Lake Powhatan. Located only 10 minutes from town, the sandy shores of the lake are the perfect spot to sunbathe, splash around in the lake, and stay cool. Pay for the $5 day-use pass, and you'll gain access to the beach, nearby hiking trails, and more. Additionally, Lake Powhatan is conveniently located near the French Broad River and Bent Creek Experimental Forest. Enjoy quality time at the beach without the long drive to the ocean!
If you're looking for a place that's more secluded, but still close to all the great things in Asheville, stay at Bent Creek Lodge. Here you will find the ultimate mountain getaway with all the luxurious amenities. Sit outside on the decks and patios overlooking the lush woods, or take a walk on their onsite trail. The only downside is, you may find it hard to leave!
Frosty Treats
Thanks to our sweltering summers, there are a bunch of incredible ice cream shops in Asheville. Visit The Hop Handcrafted Ice Cream to enjoy unique, tasty flavors made for both humans and dogs! If you're looking for a twist on a classic, try out Whit's Frozen Custard, serving a super premium version of ice cream with rave reviews from locals. Additionally, Ultimate Ice Cream uses milk sourced from small dairy farms within 150 miles of Asheville. With over 400 varieties of ice cream on the menu, you're sure to find a flavor to love!
Slip and Slide
After you've gotten your ice cream fill, take a short drive to Sliding Rock. This natural waterslide near Pisgah Forest attracts both locals and visitors alike. Use the handrail that's built into the side for easy access to the top, then sit and glide down the natural slide. At the bottom, you'll plunge into a natural pool about 8 feet deep! You will love the rush of sliding down into the water, and you'll stay nice and cool. There is a $4 entrance fee, and it is worth every penny. Even if you don't swim, it's fun just to watch too!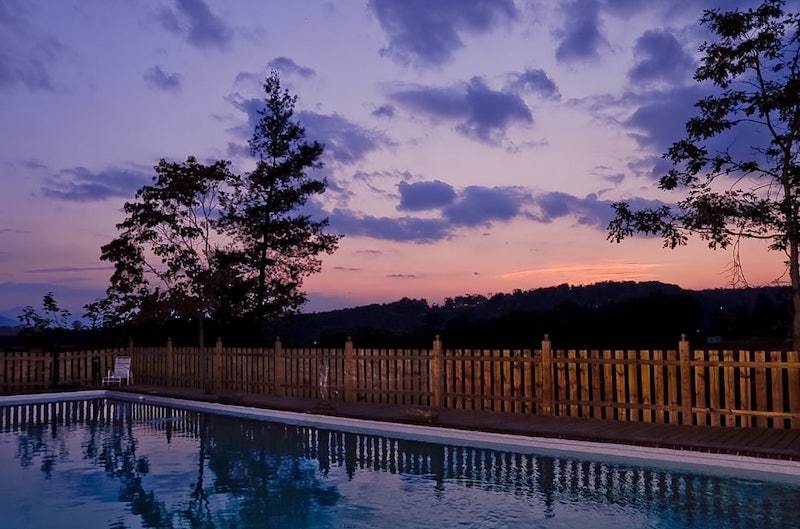 If you're more of a "day at the pool" person, consider booking a stay at The Reynolds Mansion. Their beautiful grounds include a large swimming pool big enough for you and your friends and family! Check out their lovely rooms today.
Waterfall Hopping
Asheville is home to countless waterfalls, all offering a way to beat the heat when the weather warms up. Snap some awesome photos of Looking Glass Falls, located in Pisgah National Forest. It also has a pool below the falls to jump into. Another must-see waterfall is Skinny Dip Falls, just off the Blue Ridge Parkway in Shining Rock Wilderness Area. The rocks that surround the pool offer more of a secluded feel, but our local experts recommend visiting on weekdays as the spot gets quite crowded.
The Princess Anne Hotel might be the perfect place to rest your head after a long day in Asheville. They offer complimentary afternoon wine and hor d'oeuvres, and of course, a hot gourmet breakfast. From spacious suites to superb hospitality, you'll feel like royalty when you stay at the Princess Anne Hotel.
Tubin' and Cruisin'
Spend the day floating the river to stay cool and totally chill out. Head to French Broad Outfitters to rent a tube, and float peacefully along the French Broad River. The trip lasts between two and three hours, and is a great way to see Asheville. Alternatively, drive about 45 minutes to Green River to enjoy a mixture of serenity and adventure. Check out Wilderness Cove for rentals and tube down class I and II rapids. This may sound a bit extreme, but it's loads of fun. There's even a rope swing to use along the way.
If you visit any of these great places, tag us in your photo on Instagram! Want additional insider tips about your upcoming Asheville vacay? Learn more about what to do in Asheville by staying at an independent inn. Your innkeeper will gladly offer tips about the best hikes, where to eat, and so much more. Let the Asheville Bed & Breakfast Association help you find the best inn, B&B, or boutique hotel for your next getaway.