The Montford Historic District, just north of downtown, is home to a number of gorgeous buildings. Pinecrest is an English Tudor-style home that always triggers a second glance. Inside this old world B&B, you'll find rooms and suites with the perfect blend of comfortable ambiance and modern amenities. As if the design and decor wasn't enough, this B&B is conveniently located within walking distance to shopping, dining, and entertainment. Explore the behind-the-scenes magic of the Pinecrest Bed & Breakfast.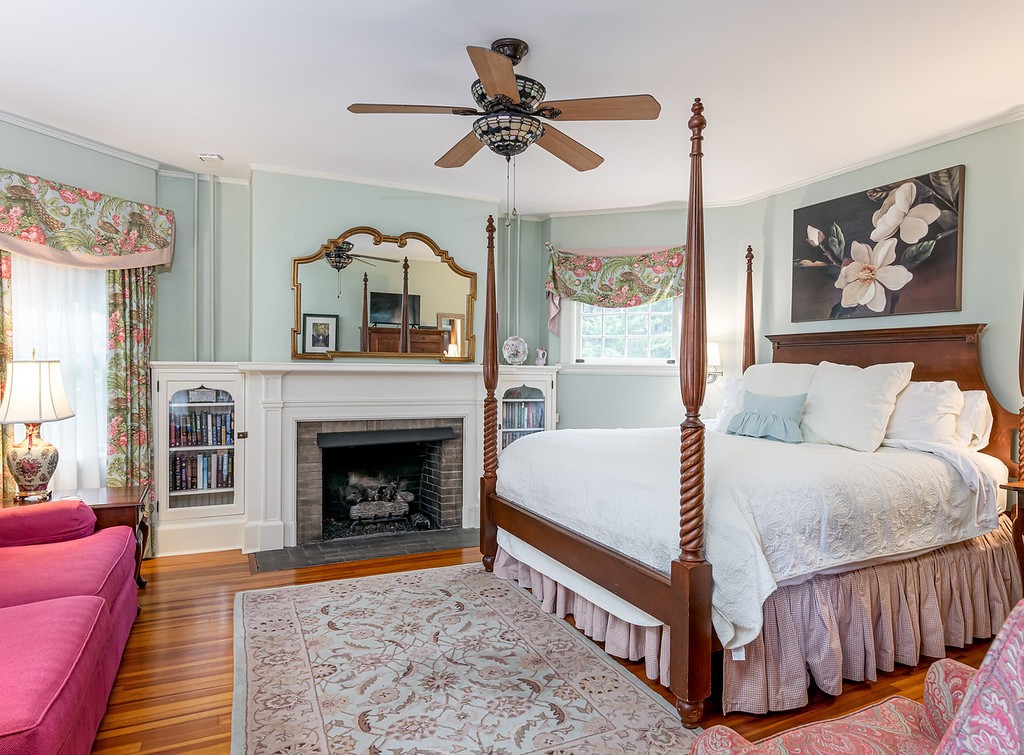 The History Behind Pinecrest
Long before this Montford mansion was a cozy B&B, Pinecrest was a family home for the Crowleys. Mrs. Crowley was very involved with the design of the house and hired Richard Sharp Smith, an architect who worked on the Biltmore Estate, to create the home we see today. The Wible family purchased Pinecrest in 1941 and kept it in the family for over 50 years before selling it to the Newell's who turned it into a bed & breakfast. In 1977, the house was listed on the National Register of Historic Places as part of the Montford Historic District. Today Diane and Dan Rogers are continuing the high level of quality of the Pinecrest Bed & Breakfast while allowing travelers to make themselves at home and appreciate this stunning piece of history.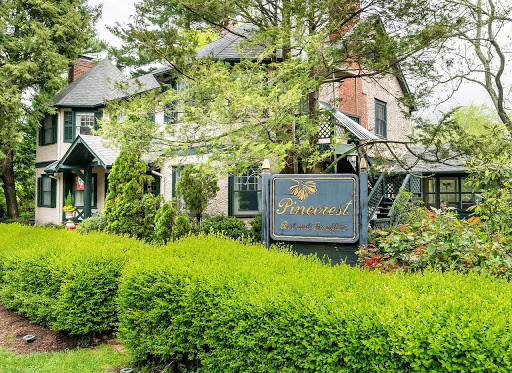 Explore Asheville With Ease
Craving a juicy burger? Diane and Dan will point you to the best one in town. Want to go on a hike where the trail is all yours? They'll point you in the right direction. If you're a last-minute vacationer who wants to explore on a whim, you can still see the best of town with the help of Pinecrest's innkeepers. You can also take the stress out of planning with their wide range of packages. Add your Biltmore tickets to your reservation and save up to $10 per ticket. Book an experience package through the inn and give up the responsibility of planning the perfect getaway. You can just show up and have a blast.

Taste The Pinecrest Difference
Breakfast at the Pinecrest Bed & Breakfast is something to get excited about every morning. The smell of fresh brewed coffee and home baked goodies is enough to pull you out of bed. You'll find seasonal treats like apple cranberry stuffed turnovers around the holidays or blueberry coffee cake during the peak of summer. Each breakfast also comes with a seasonal fruit dish and one of their signature breakfast entrees. Enjoy choosing from sweet dishes like carrot cake pancakes or fluffy light-as-air waffles and savory delights like Quiche Lorraine with a hashbrown crust and smoked gouda, sun-dried tomatoes, and basil frittata. You'll taste Asheville in every bite as Pinecrest uses several local ingredients from nearby family farms and farmers markets. Breakfast can either be served in the sun room, dining room, parlor, or brought to your room.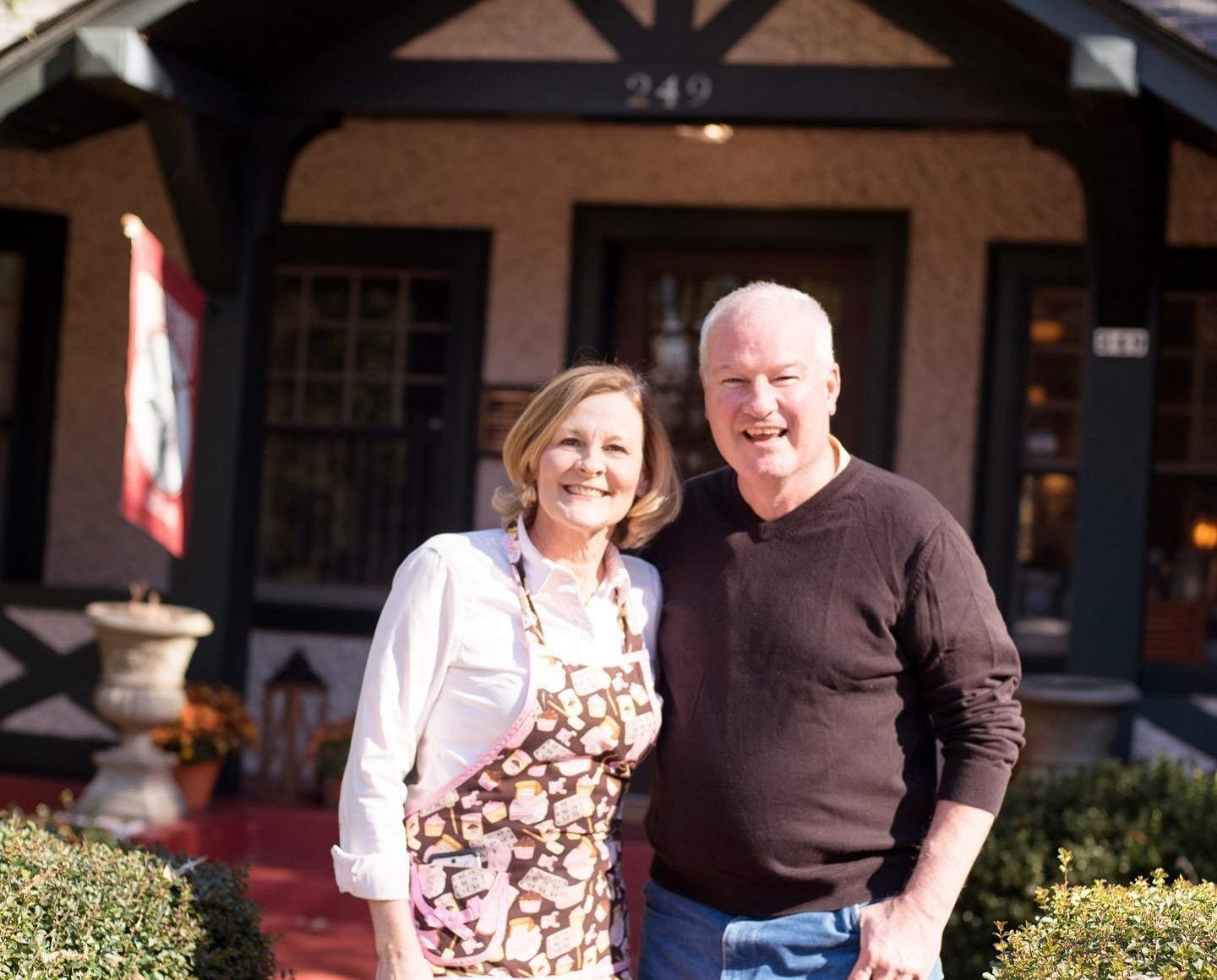 Meet Innkeepers Diane & Dan
Q: What made you want to be an innkeeper?
A: Some innkeepers plan for years to realize their dream of owning a B&B. We stumbled upon the idea when Diane saw a real estate ad in the Chattanooga Sunday paper for a no-tell motel which started the discussion about getting into the hospitality business. A few days later on a whim, Diane forwarded a link to a B&B for sale in Asheville with the text "Forget the motel. Let's buy a B&B in Asheville. LOL." Dan called her bluff and responded with a text the next morning that said "I have an appointment with a realtor in Asheville to look at B&B on Oct 5th. Are you coming?" The rest is history. We closed on Pinecrest Bed & Breakfast on February 2, 2016, and have no regrets!
Q: Would you consider yourself more of a sweet or savory person?
A: Diane is sweet! This is an asset since she's the baker and can taste test all the cookies baked fresh. One of the most requested cookies is Pecan Bars which has its own blog post and Diane had an online bake sale when closed in the spring due to COVID19. Dan's heart is sweet but his belt loops protest so he's grown to love savory dishes at Pinecrest. He's the steady influence when Diane gets too creative, for instance, she tried to serve cucumbers with blueberries, pistachios, and a dill-yogurt sauce when Dan said it's just "too weird."
Q: If you could go on vacation anywhere, where would you go?
A: Dan will go on any vacation that Diane plans but our favorite place recently is Folly Beach, near Charleston SC. We park our car at a beach condo, spend the day sitting by the ocean, then grab drinks and dinner, all within walking distance of downtown Folly Beach. It's our do-nothing vacation.
Some day it's his dream to go see multiple stages of the Tour De France! Diane would vacation in Denver to see our daughter and son-in-law. We brag about Asheville being close to Mount Mitchell which is the tallest peak east of the Mississippi but our daughter says it's just a big hill compared to the Rockies. LOL. We're tired of Zoom–we want to see them in person!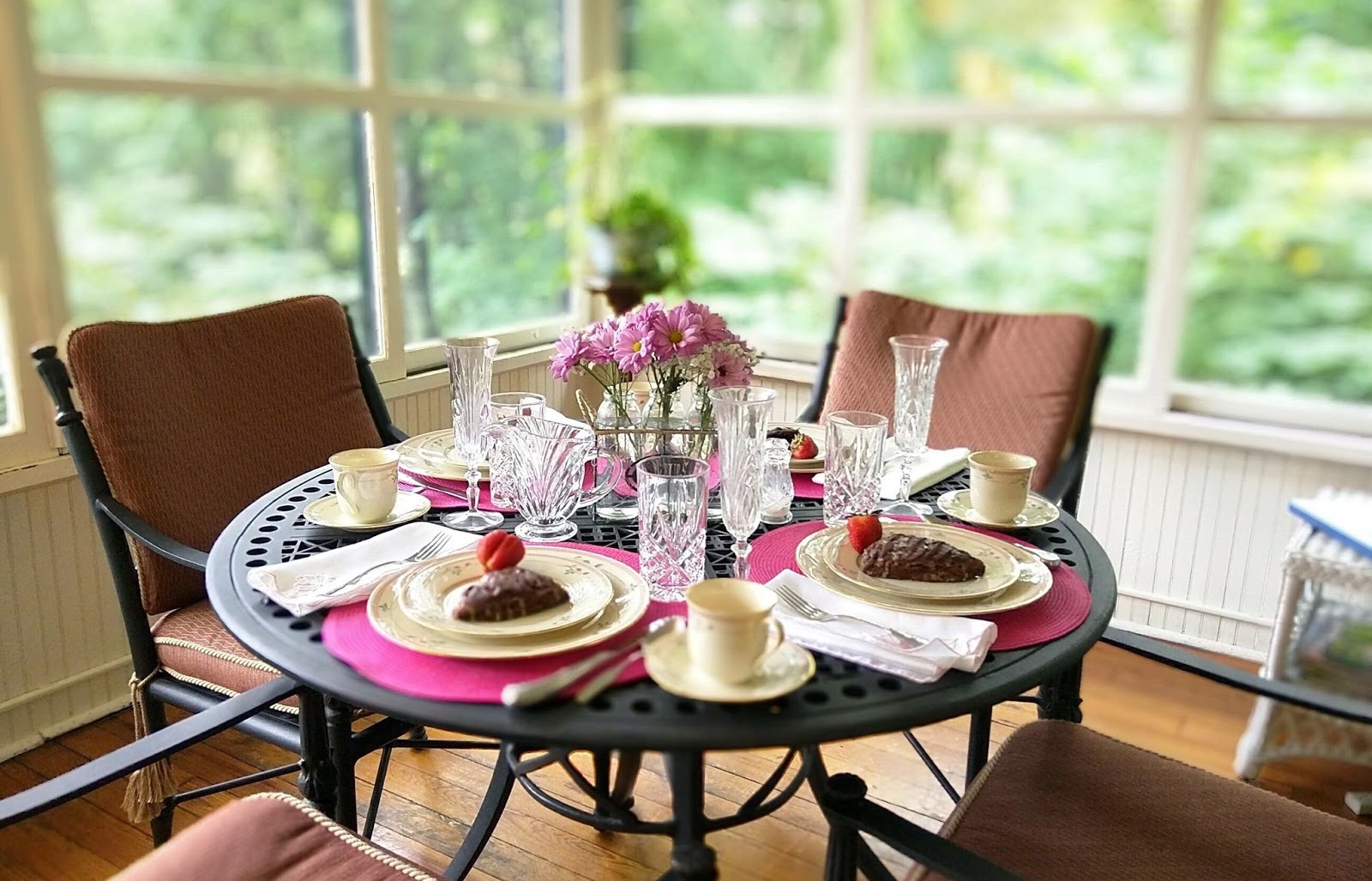 Q: What is your favorite breakfast food?
A: Diane's favorite breakfast food changes with the seasons but right now it's Sweet Potato Pancakes. North Carolina grows more sweet potatoes than any other state so it's like eating local. We have a CSA market share with Full Sun Farm and buy our sweet potatoes from them in season. These pancakes are made with real buttermilk (get full fat!) and are served with toasted pecans and real maple syrup we purchase from Green Mountain Maple Syrup, who split their time between Vermont and Asheville.
Dan's favorite dish is our deconstructed Denver omelet on waffled potatoes. PS: you can cook tater tots in a waffle iron! Piled on the tots are ham, green peppers, onions, scrambled eggs, and an abundance of cheese melted all over the top. It's diner food, elevated.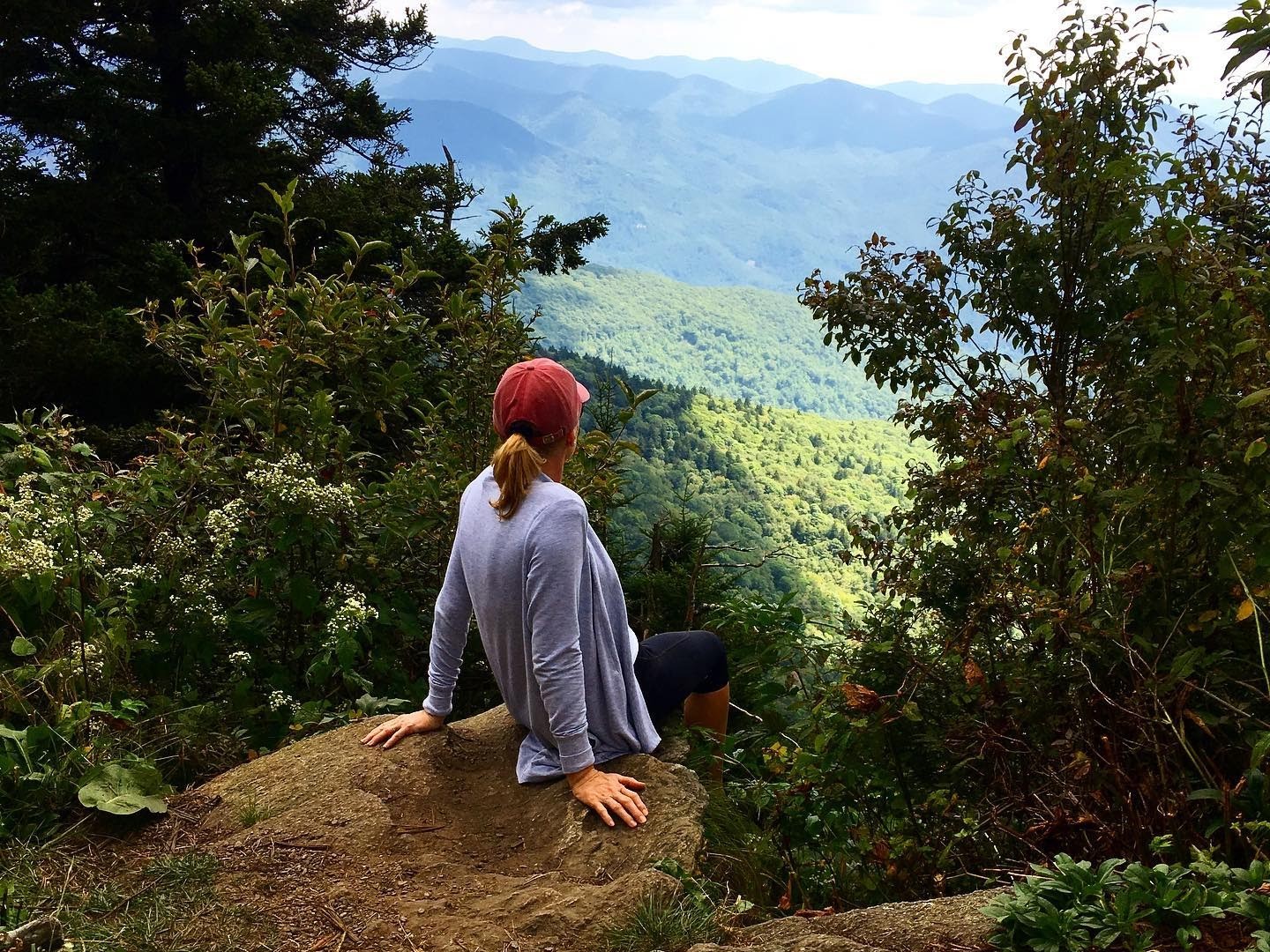 Q: What made you fall in love with Asheville?
A: We lived in Dalton, GA, and started coming to Asheville when Diane's parents moved here from Ohio. Dalton is close to Chattanooga which had some similar characteristics to Asheville with mountains, a grand river, and fantastic restaurants. We particularly fell in love with the Montford historic district for its walkability and architecture. We are so pleased we could make this our permanent home in 2016.
Asheville is a little town that lives big. We spend a fair amount of our time downtown, checking out the many shops, galleries, and restaurants. Guests should plan to spend at least a half-day downtown to get a true feel for the city. We are also keen on the South Slope for its many breweries. We had a great time this year making our own DIY Oktoberfest!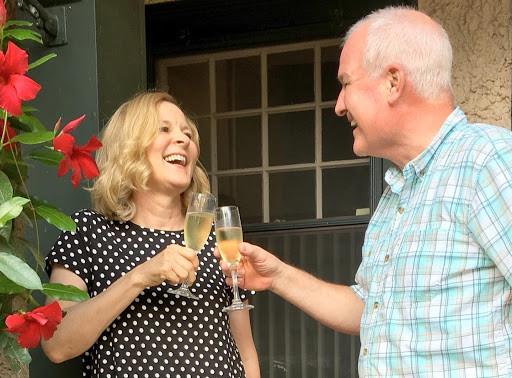 Q: What is your ideal date night?
A: It took less than one year to find these romantic spots on Valentine's Day 2017. Five years and one global pandemic later, these recommendations still ring true. Though we LOVE bbq, for a truly romantic dinner we would recommend one of Asheville's farm-to-table restaurants with sidewalk seating like Sovereign Remedies, Modesto, or Asheville Proper.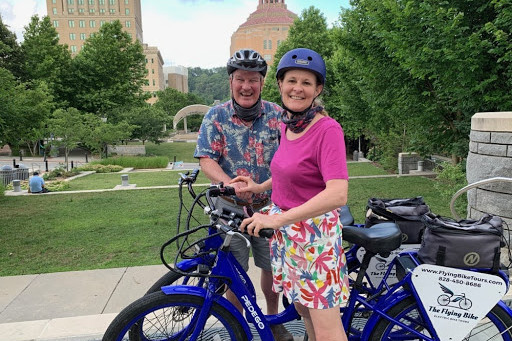 Q: What travel tip do you have for guests visiting Asheville?
A: We had a friend ask once "should I stay Friday/Saturday or Saturday/Sunday?" Our answer was to stay for 3 nights! Guests can enjoy a day at the Biltmore Estate and still have time to explore the mountains of Western North Carolina, sneak in a stop at a brewery, and have dinner at one of Asheville's many fine restaurants.
Want to see Asheville and feel like a kid again? Book a tour with The Flying Bike. Their electric-assist bikes give you just the boost you need to make it up the hills in the city. The tour has stops downtown, through the historic district, and the iconic Grove Park Inn with spectacular views of the city of Asheville.
Don't wait another day. Plan your next trip to Asheville, North Carolina and book a stay at Pinecrest B&B. Call 828.281.4275 and book this exclusive offer: Pay for 2/Stay for 3 Deal! Valid on stays before 12/23/20 and subject to availability; discount of third night free is off lowest rate.