Asheville is loved for it's easy access to the outdoors. Nature is never more than a short drive away and at Engadine Inn & Cabins, its right out your back door. This retreat off of the Smoky Park Highway borders the Pisgah National Forest so you can be surrounded by wilderness and the sounds of wildlife.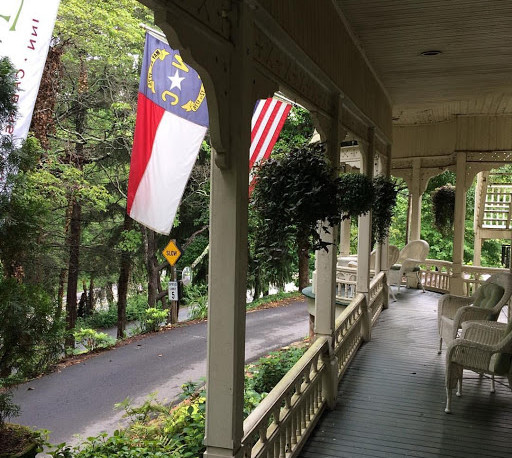 History of Engadine
Like much of Asheville, Engadine has a rich and interesting history. Originally built in 1885, this stunning home was one of the region's finest wineries. This 100+ acre estate was built by Captain John Hoyt and his wife Mary. He was the son of a banker from New York, who had moved south and opened a bank in Washington, NC. After he met his wife, they moved to the Asheville area to build a home and start their business. After completion, they decided to name their home Engadine after the Engadine Valley in Switzerland
The wines produced at Engadine were sold locally to hotels and restaurants and also to the Vanderbilts who served them at Biltmore. They were also sold and shipped throughout the country to places as far away as San Francisco and New York. Ultimately, the success of their venture came to an end with prohibition which, sadly, put them out of business. One grapevine on the property survived that produces grapes each summer. The housekeeper uses each year's bounty to make jelly which we sell to guests.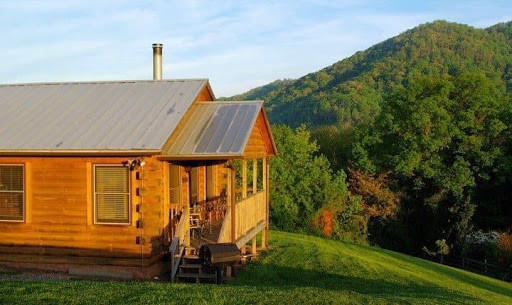 Staying at Engadine
Pictures and history paint a lovely picture, but the true beauty of this inn can only be appreciated in person. Guests have the option of staying in the historic main house with luxurious amenities like fireplaces and clawfoot tubs. Alternatively, those looking for a more rustic retreat can nestle into one of the cozy cabins complete with small kitchens, private patios, and charming details.
Guests at the inn are treated to a delightful breakfast each morning with menus varying between sweet and savory dishes. Cabin guests are welcome to add on breakfast to their reservation or create their own culinary masterpieces in their quaint kitchens. If you're planning for an early morning start and don't want to worry about breakfast on the way, you can order a grab and go breakfast that is healthy, delicious, and easy.
For a romantic getaway, stay in the Captain's Room and spend your evening taking a luxurious bubble bath next to a warming fireplace. If you like to rise with the sun, book a stay in the Vineyard Room which boasts tons of natural sunlight and has a great view of the meadow that used to host the vineyard. While all of the cabins offer secluded retreats, the Mount Mitchell and Cherokee Cabins are favorites for their stunning views of the surrounding valleys.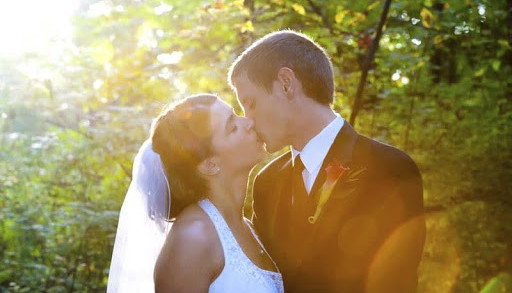 Starting A Life Together at Engadine
Engadine has been the host of numerous weddings. Larger than life dream weddings to small and intimate elopements, this stunning venue has seen it all. On the larger side (up to 100 guests) there are two stunning outdoor venues to choose from. Honey Hill, which faces west, can host your ceremony, a sit down dinner, a fun cocktail reception, or any combination. The Vineyard Overlook, which faces north, is perfect for a separate reception from the ceremony so you can jump in and start the celebrations. For smaller weddings and elopements, you'll find a wide selection of options. Inside the parlour or dining room, on the wrap around porch, or outdoors on the 12 acres of land.
Meet Innkeepers Rick & Tom
Q: What made you want to be an innkeeper?
A: Throughout our 38 years together, we have always enjoyed traveling the back road to find unique destinations. Whether staying in a charming or historic B&B of finding a kitschy classic roadside motel, we always wanted the places we've stayed to be a part of creating a unique travel experience. So, in buying and operating an inn, we wanted to create that same kind of experience for others to enjoy.
We had considered buying an inn at an earlier time when we moved to South Florida in 2000. A number of factors changed our thinking at the time and we, instead, stated a successful corporate event planning business.
By 2014, we had grown weary of living in South Florida and were ready for a change. Wanting to be closer to "home," (our families live in South Carolina), we decided to dust off the old plan to buy an inn and began searching for a place to buy. After a nine month search, we picked Asheville as our new home and bought Engadine.
As for a favorite part of the day, we both enjoy breakfast. We both like to cook and enjoy the reaction from guests when they eat our food. Breakfast is also the time of day when we have the best chance to meet, chat with and get to know guests, many of whom have become friends.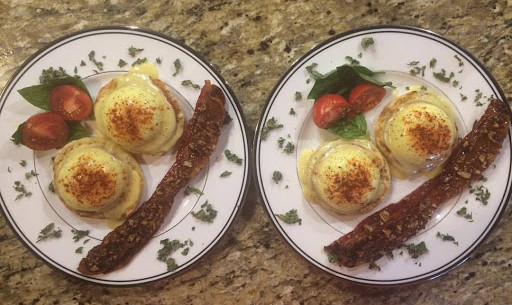 Q: Would you consider yourself more of a sweet or savory person?
A: I would say we both are more savory kinds of folks. To me, sweet things always look and smell better than they taste! As for a favorite entrée, believe it or not it's a recipe for a breakfast strata that was given to me by a cousin soon after we bought the inn. Of course, we've doctored the recipe up a little to suit our needs and tastes, but it's still a winner! When we cook it, the whole house fills with the most amazing smells and we always get rave reviews for it!
Q: What is your ideal date night?
A: Date night? Haven't really had one of those in years! But, I can say that even after having been together for so long, we just enjoy each other's company, even if we're just sitting in front of the fire and watching TV in our bedroom! We also like cooking together, especially when finding or experimenting with new recipes. We'll open a bottle of wine and go to work in the kitchen in hopes that we're preparing a new favorite meal.
It might sound boring, but just being together is satisfying and fulfilling!
When we do have the chance to get away from the Inn, we do enjoy taking our RV and heading up into the mountains for a few days. We always like to find a place with a creek and, just like at home, enjoy having a drink by the campfire before cooking dinner together.
Q: What made you fall in love with Asheville?
A: When we decided to leave Fort Lauderdale, we definitely were looking for a new life in the mountains. We checked out properties in Boone, Blowing Rock, Burnsville and Asheville. But Engadine and Asheville just seemed to be the right combination. With 12 acres to work with, the property provided the foundation for what we wanted to create. And Asheville offered such a broad portfolio of amenities…great restaurants, unique attractions, world class recreation, easy access, etc. It just seemed like the right combination. So here we are!
Q: If you could time travel where/when would you go?
A: As a former event planner, my idea of time travel would be to create/recreate travel experiences inspired by classic movies…to actually visit the locations used to make some of my favorite old movies. Examples would be "Casablanca," "To Catch a Thief," some of the James Bond movies (the ones with Sean Connery!), "Breakfast at Tiffany's," "Rebel without a Cause," "Some Like It Hot," "North By Northwest," "La Dolce Vita," etc. I enjoy seeing what was and what has become of places…sort of like comparing "old" Las Vegas to "new" Las Vegas, or seeing Palm Springs today and imagining it in the heyday of Hollywood stars, or driving Route 66.
Don't wait another day! Plan your next trip to Asheville, North Carolina and book a stay at Engadine Inn & Cabins. Call (828) 633-1110 and book your stay.