You don't know luxury until you've experienced At Cumberland Falls B&B, a Victorian bed & breakfast in Asheville's beloved Montford Historic District. During your next visit to our little North Carolina mountain town, book a stay At Cumberland Falls Bed & Breakfast.
Staying at the Inn
There are some things that you can expect when staying at a bed & breakfast. Friendly innkeepers, comfortable rooms, and a tasty breakfast come to mind, but At Cumberland Falls B&B really goes above and beyond the expected. Before you even step foot in the inn, a quiet street filled with large shade trees guides you to this 1902 house. An elegant pineapple fountain leads you to the front porch and you know you're home.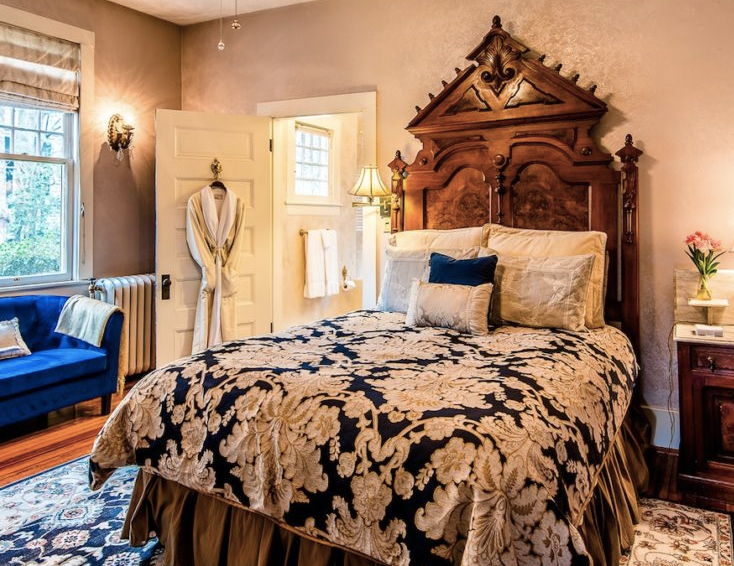 Inside the inn, you have 6 polished rooms to choose from. The Sunshine Room is light and airy, and feels like a hidden nook at the top of the house, while the Victorian Parlour embraces the Victorian nature of the inn with a gorgeous mahogany headboard and elegant details throughout. Wake up and enjoy a delicious breakfast at the inn or let your innkeepers pack you a to-go start to your day if you want to run out for an early morning hike, bike, or kayak!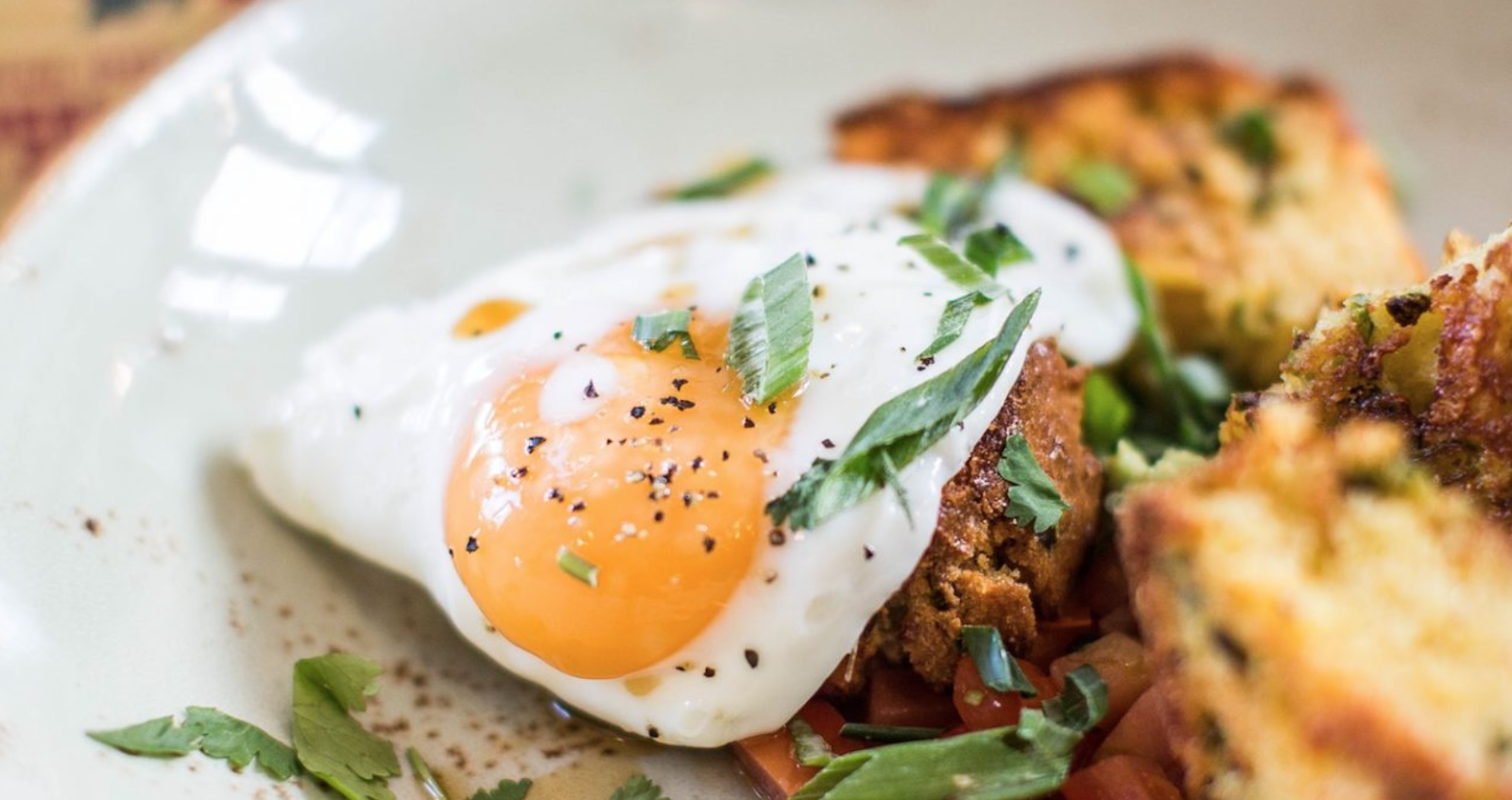 Breakfast at the inn consists of 3 gourmet courses with the second being just a small intermezzo packed with indulgent flavors like panna cotta, orange Julius, or bite-size eclairs. Entrees include eggs benedict, Belgian waffles, almond encrusted French toast, and a dozen other tasty experiences. In the afternoon you'll be treated to David's gourmet baked goods. Sometimes referred to as the Boozy Baker, David can find a way to sneak alcohol into almost anything he touches. You'll taste the difference with his brandy-marinated cherry cookies in the summer or his Bailey's Irish Cream chocolate chip cookies in the winter.
At Cumberland Falls B&B is the perfect place for new visitors to Asheville and outdoor enthusiasts looking to experience the Blue Ridge Mountains. David and Anglea are experts on the area and can point you to popular landmarks, secret hiking trails, and even plan out your perfect day from start to finish. David has spent the last 3 years attending over 240 hours of classes to become a Certified Blue Ridge Parkway and Western North Carolina Naturalist. If you want a fully immersive experience, embark on a tour led by David through HikeBikeKayak Asheville. You'll see some of the best sites around town and learn about the natural history of the area during any of David's trips!
From now through 9/30/20, At Cumberland Falls B&B is offering a 2 for 1 Half Day Hike from HikeBikeKayak. Explore the town with David as your guide for only $75 a person (usually $150) booking a room at Cumberland Falls for your stay in Asheville. Book directly or call ahead to grab this great offer!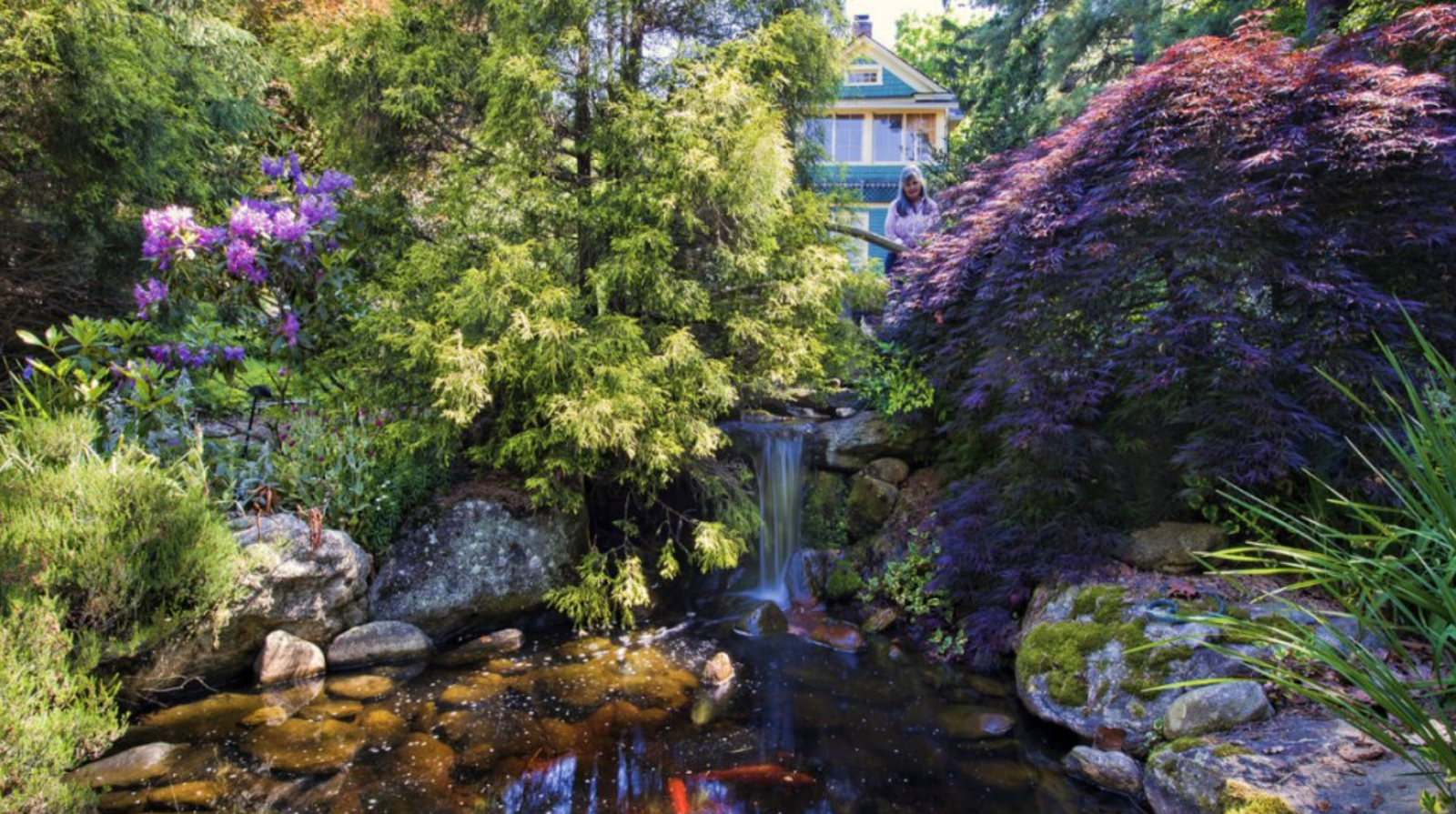 After your day of exploring Asheville, you can return back to your rooms and enjoy the lovely gardens around the inn. Bright, colorful perennials and evergreens dot the landscape. Most notable are the resident Koi fish. The frequent, enthusiastic visits to the pond have given these fish a personality of their own. They are now attention-seeking, quickly making the swim to the side of the pond just for your personal attention. Enjoy an afternoon glass of wine (or a local beer) and take in this refreshing oasis in the heart of the city.
The Spa Under the Falls
As if the inn wasn't relaxing enough as is, At Cumberland Falls B&B has it's very own on-site spa for its guests. Located on the first floor of the inn, a luxurious massage or indulgent foot bath is only a few steps away. Choose from a variety of massage treatments including Swedish, Hot Stone, Prenatal, or the Specialty Falls Massage. The Falls Massage is a flowing combination of deep tissue and Swedish techniques designed to bring you into a deeply relaxed place. For a couple, the foot baths are a perfect way to unwind together. After just one treatment your toes will feel good as new!

Get to Know Innkeepers Angela & David
Q: What made you want to be an innkeeper?
A: We love having company over, taking good care of them, and making meals for them. Owning a B&B is just like having friends over all the time.
Q: Would you consider yourself more of a sweet or savory person?
A: Angela is definitely savory – David is both, he will eat anything!
Q: What do you do when you're not being an innkeeper?
A: Angela is always an innkeeper and spare time isn't in her vocabulary! David on the other hand is out hiking every trail and kayaking every lake in Western North Carolina. We do have a home in Weaverville where we have 3 dogs, a tortoise, parrot, duck, and a pig. They keep us pretty entertained and busy.
Q: What is your favorite breakfast food?
A: Breakfast Burritos with fresh salsa (red salsa for Angela and green salsa for David).
Q: What made you fall in love with Asheville?
A: The beauty of the mountains, 4 seasons, and the kind people. We also love how entrepreneurial it is and the food and music scene is unbelievable for a small mountain town!
Q: If you could time travel where/when would you go?
A: Angela would either go back to meet Jesus or jump forward and see how long COVID lasts. David would go way back to 1896 to the Alaskan Klondike Gold Rush!
Q: What travel tip do you have for guests visiting Asheville?
A: In normal times I would say to visit during the third Friday of the month! From May-September, there is a concert series downtown and after 5 concerts you can hit up the drum circle and have a great time. I would also tell guests that 2 days isn't quite enough to explore everything in town. Stay at least 3!
Book a stay At Cumberland Falls Bed & Breakfast for your next visit to Asheville. With stunning gardens, quaint rooms, funny and knowledgeable innkeepers, and tranquil setting you'll never want to leave!