Atop a knoll in the Montford Historic District, the classic red facade of Applewood Manor stands out against the lush, green trees. The six-room property, although seemingly engulfed by nature, is just minutes away from Biltmore Estate, the Blue Ridge Parkway and more must-visit Asheville destinations. Additionally, this bed and breakfast-style boutique hotel boasts state-of-the-art bike rentals, luxurious amenities, and gallery-quality art throughout the home.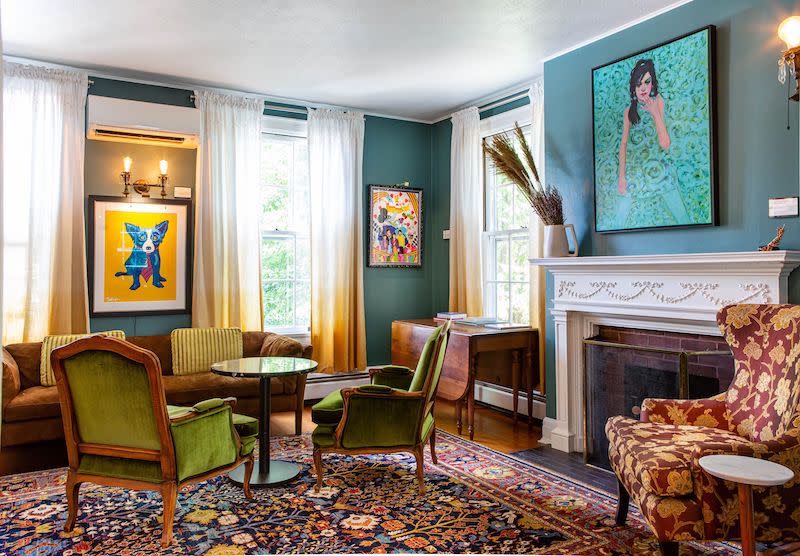 History of Applewood Manor
According to owner and operator Stephen Collins, the "house was built in 1912 and has changed little since that time." The bed and breakfast pays tribute to its history with "two photos of the property taken sometime around 1912 to 1914. One photo is of the house itself and the other looking at the surrounding area from one of our balconies." The New England Style Colonial Revival home served as a family residence until the 1980s. Applewood Manor is notably one of the longest continuously operating bed and breakfasts in Asheville.
Staying at Applewood Manor
Per Stephen, "our inn is quite differentiated from the typical BnB guest experience. The first thing all our guests notice and comment upon is our art collection. Every room, both common areas and bedrooms, has a unique art theme to invoke a mood appropriate for the space." In addition to stunning decor, Applewood Manor offers luxurious king size beds adorned with the highest quality linens, farm-to-table breakfast served each morning, and a variety of packages to make your stay perfect.
Stephen continues to explain that Applewood Manor strives "to provide a guest experience that is high-end with aspects of a boutique hotel combined with the vibe of a bed and breakfast. Our style and decor we consider contemporary eclectic. We were inspired by The Soho House and their amazing properties around the world as well as resorts such as Blackberry Farm." Cleo and Pearl, the Collins family's beloved French Bulldogs, act as Hospitality Directors "who greet and visit with guests often." In fact, the property's private Cortland Cottage (pictured above) is pet-friendly and features feel-good, eclectic dog decor.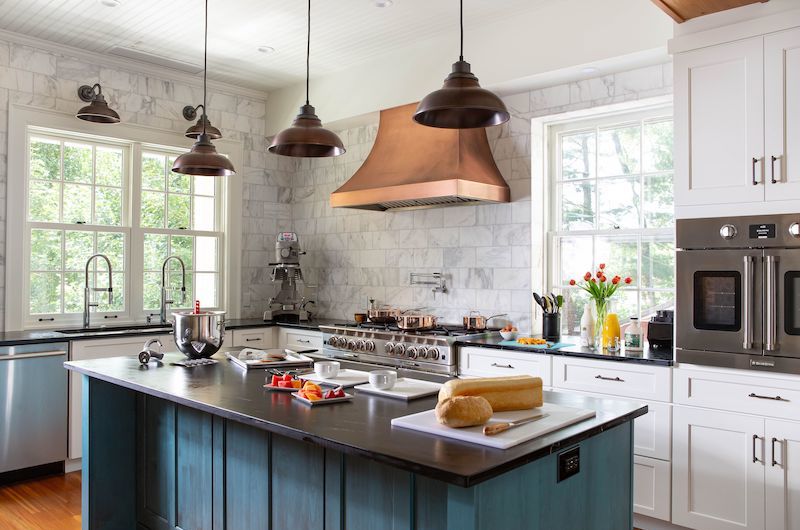 Meet the Innkeepers: Stephen and Robin Collins
Q: What made you want to be an innkeeper?
A: My wife, Robin, and I wanted to find a project that we could do together with all our children out of the house. And, we wanted to find an opportunity that would enable us to share our passions for travel, food, wine, and art with new friends. Also, investing in the Asheville community, specifically the Montford Historic District, was a compelling factor in our decision.
Q: What is your favorite breakfast food?
A: It's hard to top bacon; however, I'd have to say that a well-made omelet is my favorite. Of course, bacon should be provided as an accompaniment.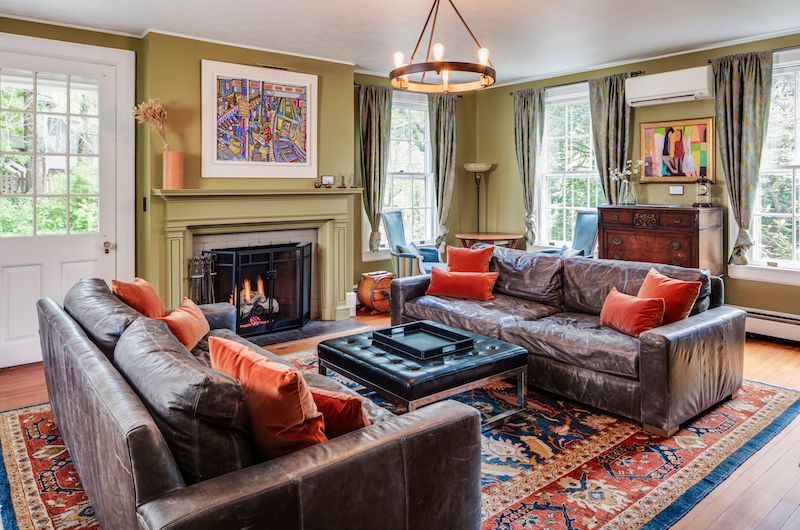 Q: What made you fall in love with Asheville?
A: There are multiple aspects that combined brought us to Asheville as our clear choice for our long-term residence. The mountains are certainly amazing. I am a passionate cyclist, and the riding options here are some of the very best and most beautiful in the USA. We both love the climate, the lively downtown scene with great restaurants, craft beer and the people in our neighbourhood of Montford.
Q: What is your favorite place in the world?
A: The south of France. Provence to be exact. We have a home there in the village of Roussillon, and 2 of our 3 daughters attended high school in Aix en Provence.
Q: If you could time travel, where/when would you go?
A: That's a tough one. I'd go with the French Riviera in the 1950s. Perhaps we could hang out with Cary Grant and Grace Kelly.
Q: What is your ultimate Asheville local travel tip for guests?
A: Fall is the best time of year in Asheville especially for hiking/cycling and seeing fall colors. Restaurant – we love Curate, of course. But our top recommendation for guests has been to visit Asheville Proper. They do a great job with locally sourced steaks. The Asheville Gran Fondo is a wonderful cycling challenge as is the nearby Belgian Waffle Ride Asheville. As for beer, I always enjoy visiting Burial Beer.
Q: Do you have any fun, unique stories about your inn?
A: As a matter of fact, my father wrote an entire book of stories about Applewood Manor and Asheville. The house was built in 1912 and has changed little since that time. My favorite items in the house are two photos of the property taken sometime around 1912 to 1914. One photo is of the house itself and the other looking at the surrounding area from one of our balconies.
Pick your perfect room at Applewood Manor to experience a truly luxurious Asheville adventure. Rest peacefully each night in a lavish king size bed, and wake up to the smell of a delicious, homemade breakfast each morning. Reserve the Peep & Pedal Fall Colors cycling experience now to witness gorgeous fall foliage firsthand from the best rides in Asheville!