Step back into a time to a grand period in history at the 1899 Wright Inn & Carriage House. This artfully restored Queen Anne-style Victorian home is the perfect place for your next Asheville getaway. Enjoy elegant rooms with modern amenities, lush gardens, and delicious breakfasts during your stay.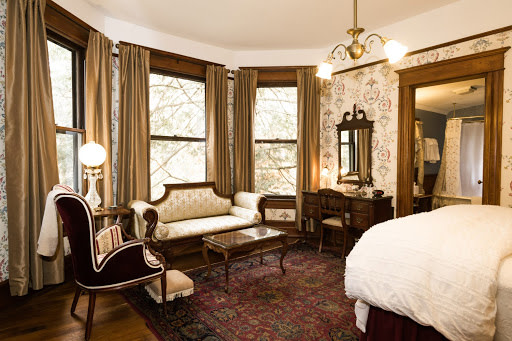 Accommodations at the Inn
You'll feel right at home from the second you step foot into the Wright Inn. The only decision you'll have to make is which luxurious room to book for your stay. The Inn boasts 8 unique rooms each designed with their own flair, plus 2 romantic suites and a carriage house.
If you could only use one word to describe these rooms, it would be comfortable. All accommodations are carefully decorated with antique furnishings, plush bedding, and elegant decor. You won't have to sacrifice modern conveniences at this grand inn, and some accommodations are elevated with fireplaces and an en-suite jacuzzi. The Green Room on the second floor is always a show stopper. With large bay windows, the room is flooded with natural light and offers a private balcony overlooking the gardens. For guests looking for a little extra room, the Powell Suite is recommended. With a carved mahogany queen bed, love seat, and electric fireplace you'll never want to leave. Take a romantic bubble bath in the clawfoot tub or get an in-room couples massage. The Wright Suite hosts an especially important antique. The portage window above the sink was a personal gift from George Vanderbilt himself. If you plan on staying in Asheville for a little while and want a place all to yourself, book the historic Carriage House. This stunning vacation rental boasts 3 bedrooms, 2 full baths, a living room, dining room, and fully equipped kitchen. This is perfect for couples looking for added privacy, a family getaway, or anyone traveling with pets as this is pet-friendly.
Honestly, there really isn't a bad room in the Inn. You can choose to elevate your stay with some pre-arranged packages or create your own personalized experience with rose petals on the bed, house-made cakes, in-room dining from local restaurant take-out, or more.

Breakfast at the Inn
The 1899 Wright Inn & Carriage House is a full-service inn, meaning you won't have to lift a finger during your stay. Each morning, you'll awake in anticipation of your delicious breakfast. Each breakfast entree is specifically created for the day using fresh ingredients that have been locally sourced. Expect seasonal treats and fresh ground coffee as one of the highlights of your stay. You have the option to have breakfast delivered to your room to minimize contact and enjoy an intimate meal with your en-suite dining tables.
Walking Distance Attractions from the Inn
While you may notice the tranquil quiet absence of noise during your stay, you'll be surprised to find that you are just minutes away from all the action. The 1899 Wright Inn & Carriage House is tucked away in the desirable Montford Area Historic District. Park your car in our private off-street parking lot and spend your time walking to all of the best attractions in town. There are several world-class restaurants within a quick walk in the Montford Neighborhood. Just half a mile away from the inn, Chiesa is an upscale Italian restaurant that always hits the mark. If you're in the mood for something full of flavor, Nine Mile is a Caribbean restaurant that creates unique and delicious entrees and is a 7-minute walk from the inn. Check out their selection of favorite restaurants, wineries, breweries, and nightlife all within a short distance of their inn. You'll also be able to walk to the University of North Carolina- Asheville and downtown with ease. The inn is a mile from the Basilica of St. Lawrence and 2 miles from the Asheville Art Museum.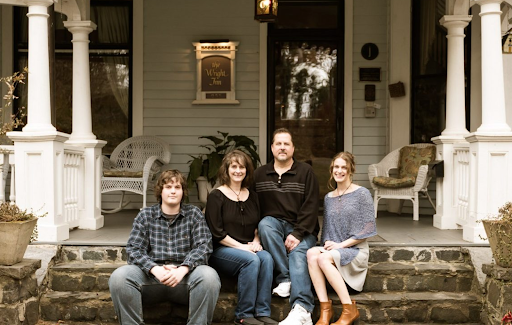 Get to Know Innkeepers Chris and Sheri
Q: What made you want to be an innkeeper?
A: We discovered B&B lodging as young adults which quickly became our first choice while traveling, even when the kids were young. We had fun imagining ourselves owning an inn but didn't really give it serious thought until recently when we found ourselves in a position where it was feasible financially.
Q: Would you consider yourself more of a sweet or savory person?
A:Sheri is more of a sweet person. Chris falls into the savory category, but if you give him a sweet treat, he will always find room.
Q:Favorite place in the world?
A: Home
Q: What is your favorite breakfast food?
A: Chris loves bacon or sausage and just about anything with eggs in it. With her sweet tooth, Sherri always finds herself with waffles, oatmeal, or yogurt. Neither can turn down a tempting scone or muffin.
Q: What made you fall in love with Asheville?
A: 1) Perfect weather: Asheville is semi tropical creating lush foliage and forests, mild summers and winters but still with a change of seasons, gorgeous mountains and yet within driving distance to warm climates and beaches. 2) Walkable City: Very cool upcoming vibe with everything from art to beer to fine dining and live entertainment. 3) Diversity: The area has so much to offer from city excitement to outdoor activities. So many places to see extraordinary views, waterfalls, wildlife etc. I have never seen so many rainbows and the periodic summer thunderstorms echoing all around through the mountains sometimes like an almost endless rumble
Q: If you could time travel where/when would you go?
A: The turn of the century: Some modern conveniences like motor vehicles, electricity and hot/cold running water yet a simpler, more peaceful way of life.
Q: What travel tip do you have for guests visiting Asheville?
A:For guests interested in the city side of things, I would recommend doing a history tour first off which helps you get a lay of the land and interesting ideas for more exploration. For less active folks consider the arboretum, schedule a brewery tour, visit the Grove Park Inn for a spectacular sunset or one of the several rooftop bars and restaurants.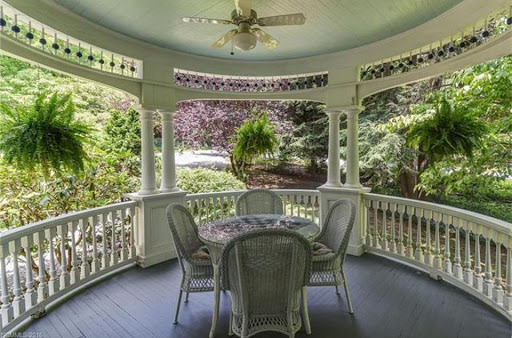 Stay at the Inn
Don't deny yourself the pleasure of staying at the 1899 Wright Inn any longer! Book your stay and experience the grandeur for yourself. Mention this blog when you reserve your stay during the month of October 2020, and we will offer you a special bottle of red, white, or non-alcoholic wine upon check-in. Simply arrive, pour a glass, and everything else will fall into place.