Valentine's Day is fast approaching and after the year we've had, everyone needs a little extra love. February 14th falls on a Monday in 2022 so make it an extra-long weekend! Now is the time to plan a romantic vacation to Asheville, North Carolina. With all of these intimate activities, you'll have a blast exploring the town with your favorite person in the world.
Take a romantic soak in salt hot tubs on the side of a mountain. At Shoji Spa you can listen to the sounds of nature while feeling all of your stress and worries melt away. Winter is one of the best times to visit this magical outdoor retreat. Shoji also includes a wide variety of offerings including foot soaks, salt caves, deep-tissue work, and couples massages.
Enjoy a Winter Hike
When it starts to snow, don't hide inside! Head out for a magical day hiking around in the great outdoors. On snowy days they close the gates to the Blue Ridge Parkway. Park your car at the gate and walk in the snow on the road to Devil's Courthouse. Plenty of your favorite trails are still accessible and you'll find that you can have the whole place all to yourselves.
Cozy Up With a Book and Glass of Champagne
Find a cozy nook among the books and enjoy a glass of champagne and a tasty dessert at Battery Park Book Exchange and Champagne Bar in downtown Asheville. This is the perfect lazy afternoon activity to warm you up after a chilly morning hike. Explore titles together, find your next favorite read, and embrace each other's company.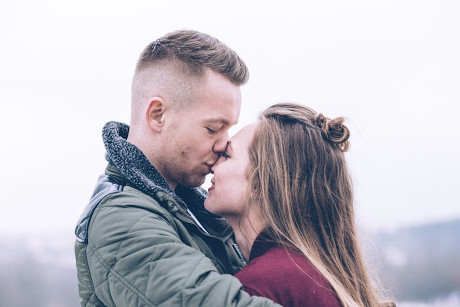 The trails around the University of North Carolina-Asheville's campus are rarely utilized but offer wonderful views. Lookout Mountain Loop Trail is a short and sweet trail that offers sweeping views of the Blue Ridge Mountains west at sunset. Explore the woods hand in hand and listen to the sounds of nature.
Beaufort House Inn is the perfect place to stay during your next getaway to Asheville. This iconic pink Victorian mansion features upscale rooms, two person jacuzzis, gas log fireplaces, and plush beds.
Take on a Truffle Taste-off
3 shops in downtown Asheville make truffles and you don't have to choose just one to visit. Head to French Broad Chocolate Lounge, The Chocolate Fetish, and Asheville Chocolate to pick out a couple from each and have a truffle throw-down. Make sure to get some out of the box flavors too. You might find that these will be your new all-time favorites.
Visit one of Asheville's Lovely Tea Rooms
Nothing is nicer than snuggling up in a quaint tea room on a chilly day. Luckily, Asheville has two tea rooms to choose from. High Climate Tea Company and Dobra Tea are both excellent options. Spend some time unwinding and letting your worries melt away.
Catch a Sunset (or Sunrise if You're an Early Riser)
We may be biased, but Asheville has some of the best sunsets in the country. With the Blue Ridge Mountains as our backdrop, every sunset is postcard perfect. Head out for a hike, grab a drink on a rooftop bar, or simply step outside and enjoy the colors of the sky. Here are some of our Favorite Places To Catch a Sunrise & Sunset in Asheville.
Stay at the Chestnut Street Inn B&B during your romantic trip to Asheville. This historic boutique inn comes with luxurious amenities like four poster beds, fireplaces, and garden views.
After dinner head over to Crave Dessert Bar for drinks and desserts with your favorite person in the world. This sweet spot is known for creating out of this world treats. Snuggle up indoors or enjoy your dessert outside around the fire pit. Who knew that indulging could be this much fun!

Relax and Get Pampered at a Bed & Breakfast
Complete your romantic getaway with a stay at one of Asheville's premier bed & breakfasts. Many of our Asheville Bed & Breakfast Association inns offer romance packages and Valentine's specials that include things like handmade local chocolate truffles, fresh flower bouquets, sparkling wine, in-room dining options, in-room couples massages, cheese boards, and more! Take advantage of included in-room amenities like fireplaces, whirlpool tubs, clawfoot tubs, cozy bathrobes, and slippers.
Explore Asheville and let the Asheville Bed & Breakfast Association help you pick out the perfect B&B, inn, or boutique hotel for your getaway.