If you are visiting Asheville, it is pretty easy to get sucked into the town with abundant breweries, creative eateries, colorful art, and urban shopping galore. While you could spend years in Asheville and never want to leave, there are a couple of gems just outside of town that you'd be sad to miss on your trip. Take a day trip filled with historical sites and educational tours or take off and get into nature with gardens and mountain views. Here are 5 incredible day trip adventures from Asheville that you won't want to miss.
Antiquing, Museums & Railroads
Just west of Asheville lies a trail of history left behind from the generations of inhabitants before us. Depart for Bryson City and you'll pass through charming towns and lush forests. Arrive at Bryson City, gateway to the Great Smoky Mountains and embark on a Great Smoky Mountains Railroad excursion with a front-row seat to nature. Go on the Tuckasegee River Excursion through small towns in North Carolina and explore the historic town of Dillsboro or ride along the Nantahala River on the Nantahala Gorge Excursion where a guide will tell you Appalachian stories and teach you about the history of the region. Try something new with the 21 and over Carolina Shine Moonshine Experience where you will learn about the bootlegging history of the region while you sip on samples of flavored moonshines and craft drinks.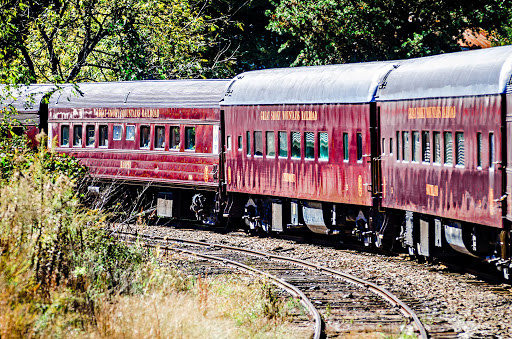 After the scenic train ride, stop at one of the unique and interesting museums in the region. Just across the river from the railroad depot, lies the Fly Fishing Museum of the Southern Appalachians where you can learn about the poles, flies, reels, and boats used to fly fish throughout the ages. You can also view the Museum of the Cherokee Indian in Cherokee where you can learn about the people who have lived in the area for over 14,000 years. Art, history, and culture is presented through interactive exhibits, digital films, and photographs.
Throughout your journey, stop in some of the quaint downtowns where you will find the most incredible selection of antique stores. Dillsboro, Maggie Valley, and Waynesville are known to have some of the best treasures hidden within these stores.
After a long day of museum visits, railroad excursions, and antiquing the quaint towns of Transylvania County, return to your luxurious rooms at The Reynolds Mansion Bed & Breakfast. This historic Colonial Revival mansion is a piece of North Carolina history and dates back to 1847 and stays true to it's landmark heritage.
Rhododendron Tunnels, Winding Roads, & Mountain Views
Embark on an adventure on the Blue Ridge Parkway that winds through the lush mountains just Northeast of town. 20 miles in and you'll come across the Craggy Gardens Visitor Center, where you can hike through a tunnel of twisted branches and blooming flowers from spring until late fall. Choose your distance as you can take a 0.3-mile hike to a shelter with an overlook over the Black Mountain Range or complete the tough, but rewarding 4-mile trek to the summit of Snowball Mountain.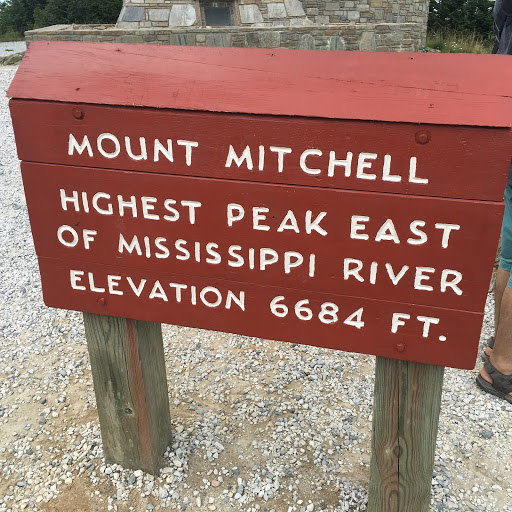 Continue along the scenic highway and pull over whenever you spot an idyllic creek, Bald Eagle, or the scenic viewpoint for Mount Mitchell, the tallest peak east of the Mississippi. You'll soon arrive at the charming mountain village of Little Switzerland. Make sure to stop at Little Switzerland Book & Beans, a three-story bookstore that feels like a chaotic collection of every book known to mankind. Beware: you can easily lose track of time in here and may suffer from sore arms from carrying all of your new reads.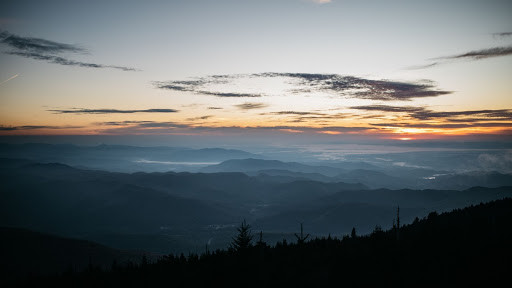 When hunger strikes, stop at the Switzerland Inn (open spring-fall) for chalet-style dining with a view or pack a picnic and stop at one of the gorgeous picnic places along the way. On your way out of Little Switzerland take the NC 226A Diamondback Driving Trail, a twisty, winding, curvy road that climbs up through lush forests of the mountains. Hop back on the Blue Ridge Parkway to follow your tracks back or continue on the highways to take you through the quaint towns of Black Forest, Old Fort, and Swannanoa on your way back to Asheville.
Waterfalls, Waterfalls, (and more) Waterfalls
Spend the day chasing picturesque waterfalls right outside of Asheville. Follow the Blue Ridge Parkway south and you'll find yourself in waterfall country in less than an hour. During the summertime, you can slip off your shoes and dunk your toes in the crystal clear waters to cool off after a hike, but during the wintertime, these falls transform into awe-inspiring sculptures of ice that you won't want to miss.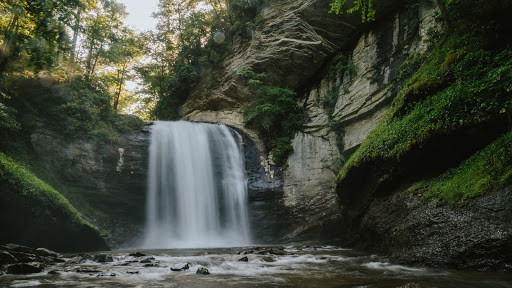 Looking Glass Falls is a popular stop for the deep pool at the base of the falls that allows you to jump in and swim around. On a weekend in the middle of summer, this waterfall may be a little crowded, but during the wintertime, you can enjoy the entire place to yourself.
If you are looking for a lesser-known pool to swim in, take a trip to Courthouse Falls. A short 0.6-mile hike will reward you with a picturesque little pond with a stunning waterfall feeding it. If you are looking for a challenge, strap on some hiking boots and complete the trek to Schoolhouse Falls. This 5.6-mile loop leads you through the forest to a serene pool with a wide waterfall.
If you are driving through waterfall country, you absolutely must stop at Dry Falls. Contrary to the name, this lush waterfall is one of the most impressive in the entire state. An easy 0.3-mile path leads you behind the falls where you can explore the unique cavern created by the water flow.
Innkeepers Angela & David Harrell at Cumberland Falls Bed & Breakfast Inn are avid outdoor explorers and can point you towards their favorite secret spots and hidden waterfalls tucked into the surrounding forests. After a long day of hiking, return to your tranquil rooms tucked away in a perfectly landscaped garden filled with Koi fish, old-growth trees, and colorful perennials.
Dirty Dancing, Pontoon Boats, & Scenic Cliffs
Take a trip over to Lake Lure, a beautiful lake that was made famous by the 1980's hit movie Dirty Dancing. The iconic scene where Johnny Castle taught Baby to lift was filmed in these very waters. You may also notice a couple of buildings around the town from the movie, even though the iconic camp cabins are no longer there. While you could hop in the lake and reenact your favorite scene anytime from spring-fall, you can join hundreds of other fans in the annual Dirty Dancing Festival each fall. Have the time of your life and relive your favorite scenes from this classic.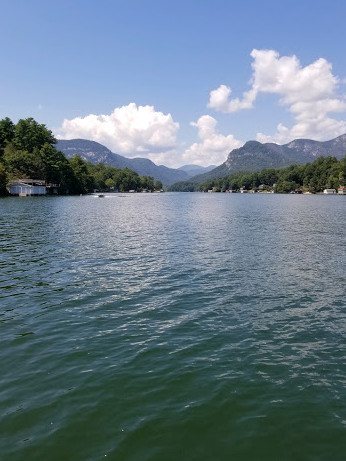 You can also spend the day playing in the lake and zooming around on a pontoon boat. With the Lake Lure Adventure Company, you can learn to waterski or wakeboard, explore the water with a kayak, rent a private boat, or head out on a guided fishing trip.
On your way back to Asheville, you may notice a large rock overlooking the valley. That rock is none other than Chimney Rock at Chimney Rock State Park. Walkout onto this 315-ft. massive granite rock for expansive views all around. Time your trip so you can watch the sunset over the mountains to the west and light up the sky, then stick around for some stargazing.
Sierra Nevada Brewing & Extreme Sports
Just south of town lies one of the best large-scale breweries in the United States. Sierra Nevada Brewing in Mills River is its own destination. This brewery is located deep in the woods and offers a selection of tours, tastings, and classes to teach you about their brewing process. Take a free 45-minute Brewery Tour of the process, learn about the rich history behind these beloved brews with a Heritage Tour, sign up for a Beer Geek Tour where you discover the science behind flavors, mouthfeel, and aroma, or enjoy a Guided Barrel Tasting in their exclusive barrel room.
After your tour, head into their taproom and order a full pint of your favorite brew and indulge with Southern-inspired small plates. You can cozy up in their warm and inviting pub, kick back on their porch next to a bonfire, or explore their nature trail with a beer in hand.
Slated to open in early 2020, Riveter is the most anticipated outdoor adventure venue. An enormous recreational facility is set on 16 acres of wooded land right next to Sierra Nevada's Brewery. Explore the indoor climbing gym, take a yoga or fitness class, bring your bike and hit the terrain park. Spend the day climbing, jumping, flying, stretching, or cycling and reward yourself with a cold crisp brew afterward.
Whether you spend your day mastering the art of beer, riding on a scenic railroad excursion, collecting books, reenacting your favorite 80's rom-com scene, or simply driving through the forests around town, you'll have a vacation for the books.
Explore all of the hidden gems and towns around Asheville and let the Asheville Bed & Breakfast Association help you pick out the perfect B&B, inn, or hotel for your getaway.