We've talked again and again about how Asheville is a foodie's paradise, but have you included food trucks into your vacation meal plan? In Asheville, food trucks are the trendiest way to eat a variety of delicious cuisines. From authentic Thai street food to monster-sized burritos, there's truly something for everyone's palate on the AVL food truck scene. Some of our favorites have permanent spots at breweries, and others routinely switch up their locations around town. Wherever they're parked, these 10 Asheville food trucks are worth following anywhere.
Tin Can Pizzeria is Asheville's original pizza food truck. Operating out of a silver and orange truck, Tin Can delivers incredible, restaurant-quality pizzas. Their location changes frequently, but you can usually find them where killer beer is served!
Gypsy Queen Cuisine brings the taste of Lebanese street food to the streets of Asheville. With vegan and vegetarian options, Gypsy Queen offers delicious, Mediterranean-style options like falafel wraps, beet shawarma wraps, and lamb kafta paninis. Our local guides say it's worth a trip for the fried cauliflower alone!
The 1899 Wright Inn & Carriage House is an authentically restored Victorian mansion in the Historic Montford District. Enjoy a homemade two-course breakfast each morning, and savor light hors d'oeuvres and beverages at a social hour each evening.
The first time one of our insiders had a Melt Your Heart grilled cheese sandwich, she said, "I'd follow that little truck anywhere!" You can't go wrong with grilled cheese, especially when it comes from Melt Your Heart. At the time of writing, this ooey gooey food truck can be found at Highland Brewing on Wednesdays, Wedge Studios on Fridays, and New Belgium Brewing on Saturdays.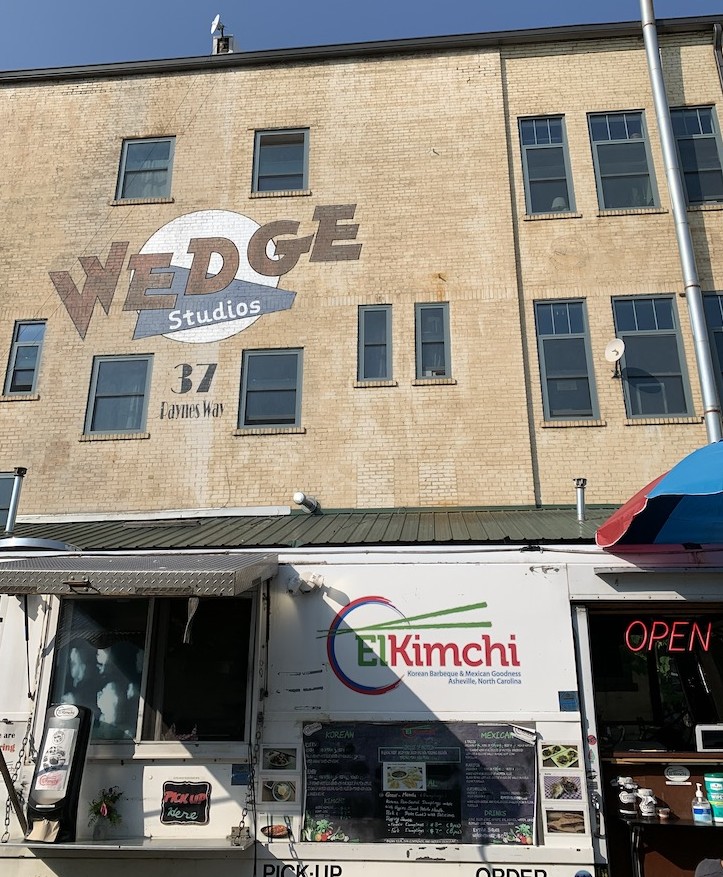 This local legend food truck serves up a unique combination of Korean and Mexican street food. Try out some of their classic menu items, like their Kimchi Dog or Korean BBQ Tacos. The best part about El Kimchi? Burritos as big as your head.
Oakland Cottage Bed & Breakfast is a lovely B&B nestled between the River Arts District and Biltmore Village in Asheville. Delight in a tasty, full breakfast each morning and get a restful sleep each night.
Vegetarian vacationers rejoice! Cecilia's Kitchen has the best veggie empanadas in Asheville… and possibly even the state! Our insiders also love their authentic tamales, black beans and rice. Not only is it delicious, it's fast!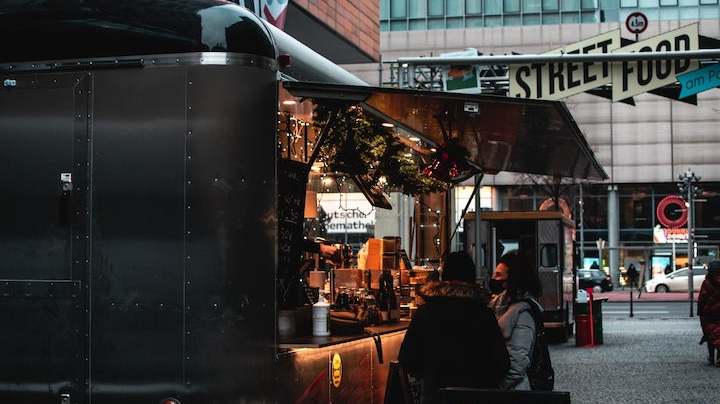 Bear's Smokehouse is an awesome BBQ truck permanently parked on Coxe Avenue on South Slope. It's the perfect place to indulge in hearty food after enjoying fancy cocktails at Antidote.
Pinecrest Bed & Breakfast innkeeper Diane says you have to order the Broccoli Salad at Bear's! Located in the Montford Historic District, Pinecrest B&B is a relaxing, private place to stay close to downtown Asheville. Select the perfect special today!
Bun Intended provides Thai-inspired street food to the hungry people of Asheville. This popular food truck recently opened up a brick and mortar location at S&W Market, Asheville's Food Hall. Check out their delicious steamed buns, bak and curry.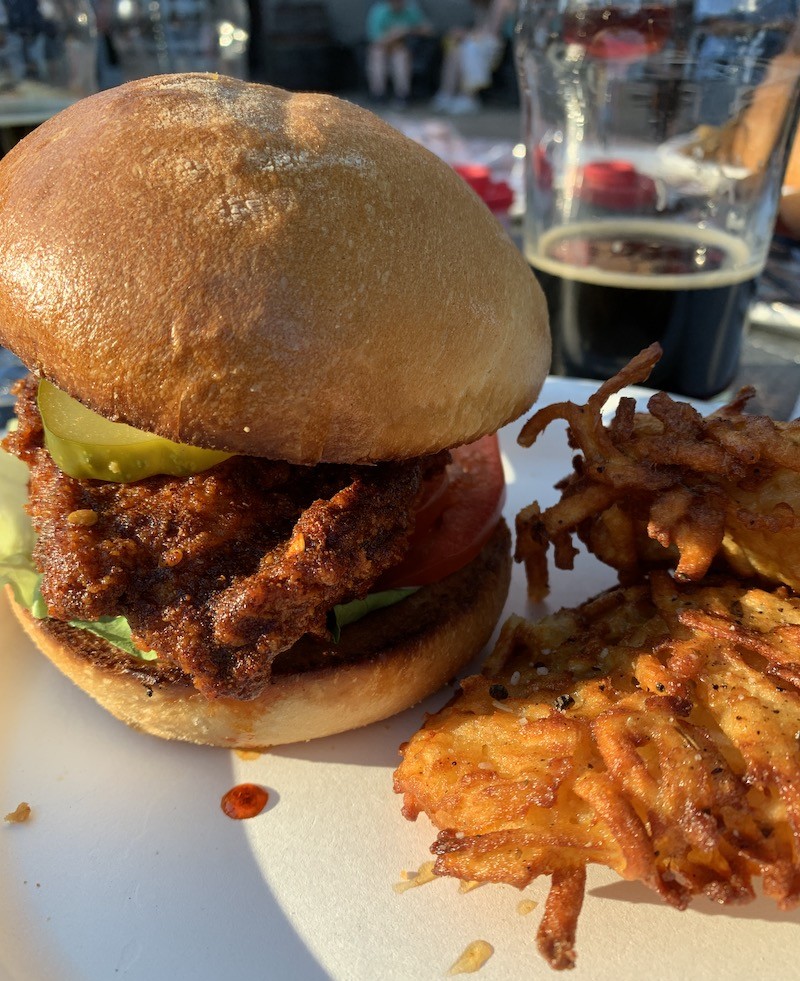 Appalachian Chic strives to serve delicious, affordable Southern-inspired food. Order the fried chicken sandwich and, trust us, make it Nashville hot. Their housemade taters tots are like the fried mashed potato patties that Grandma made with leftovers.
Engadine Inn and Cabins offers a luxurious getaway from the hustle and bustle of the city. Tucked away at the foot of the Blue Ridge Mountains, Engadine guarantees stunning natural views and is only 15 minutes away from downtown.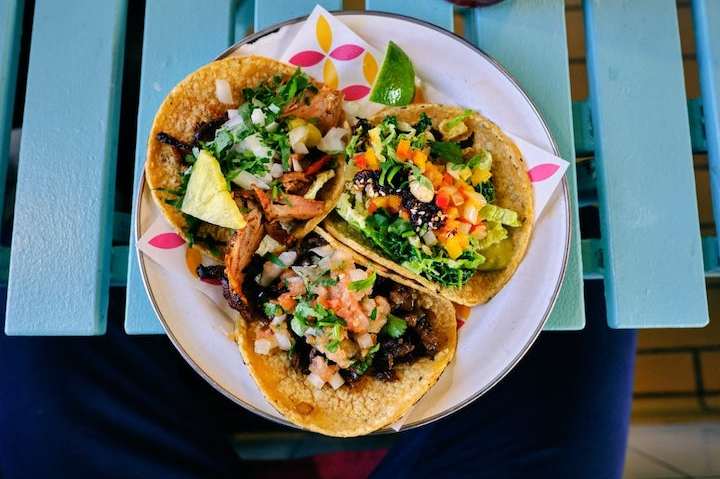 Skip their brick and mortar restaurant, and head to Zia's food truck at Olde London Road. It's hard to decide between the Hatch Green Chile Burger and the Carne Asada Fries. No matter which food you order, you won't be disappointed at Zia!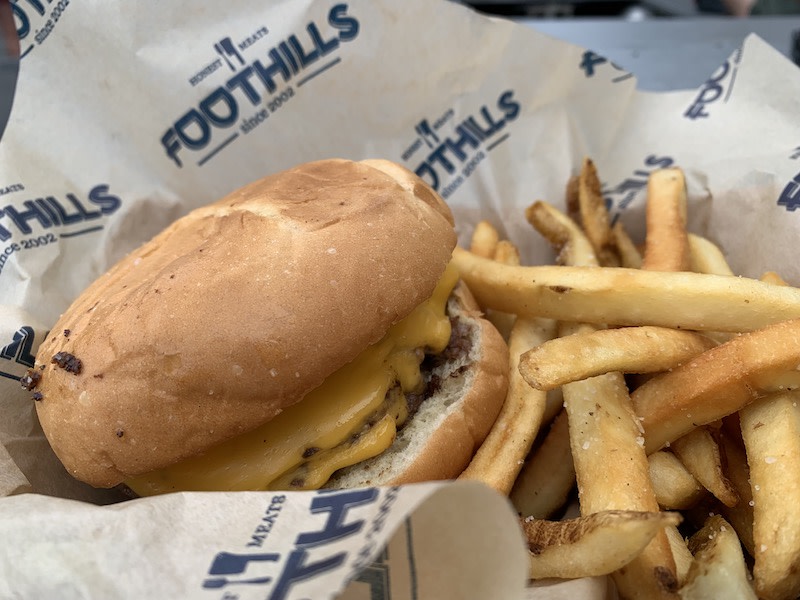 This truck, serving classic American cuisine, is permanently parked at Hi-Wire Brewing's Big Top. Foothills even makes their own hot dogs – get it Carolina style. If you are lucky enough to be there on a Monday, order a double cheeseburger with a side of tallow fries and get a $2 beer token!
If you visit any of these great places, tag us in your photo on Instagram! Want additional insider tips about your upcoming Asheville vacation? Learn more about what to do in Asheville by staying at an independent inn. Your innkeeper will gladly offer tips about the best outdoor dining options, where to cool off in town, and so much more. Let the Asheville Bed & Breakfast Association help you find the best inn, B&B, or boutique hotel for your next getaway.